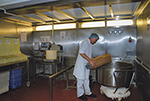 Flextraction offers a solution for the removal of dust within the workplace, be it removal over a wide area or targeted removal at source.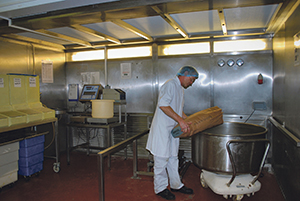 For wide areas a Down Flow Booth would offer the ideal solution:
Suppression and extraction of dust away from the operator's breathing zone
Modular Build – standard sizes from 2m upwards
Customisable to fit available space
3 Stage re-circulatory filtration system
Quiet running
100 times more effective than capture hoods
Requiring no explosion relief due to its design, this stainless steel booth is ideal for weighing and sieving of ingredients. It is also designed to automatically maintain the required airflow with minimum energy usage. For removal at source, a Hood Positioning Device (HPD) would be the preferred solution.
These HPDs are food industry compliant in ATEX and Stainless Steel with Food Industry Standard smooth bore hose.
No internal obstructions apart from the Control Damper
No internal wear, corrosion, flow restrictions or solids build up
5 standard diameters – 75/100/125/150 & 200mm
Standard wall mounting bracket INCLUDED
Arrives FULLY assembled
Available in articulated or telescopic versions
For a FREE site assessment or more information please contact:
T 01664 410641
sales@flextraction.co.uk
www.flextraction.co.uk