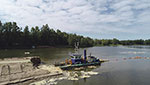 Royal Smals is a 134 year old Dutch company with great expertise in dredging and aggregate production for the building industry.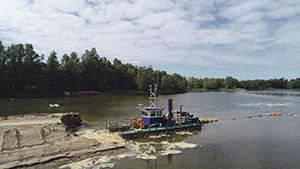 The company was awarded the prestigious 'Royal' title in 2010 for its progressive landscaping and technological vision.
With the expertise of approximately 90 professionals, Royal Smals has been carrying out hydraulic engineering works throughout Western Europe, varying from capital dredging and reclamation (eg. port construction), maintenance dredging of ports, reservoirs, channels and extraction of aggregates.
Royal Smals has a fleet of 20, road transportable, plain- and cutter-suction dredgers varying from 80 to 600mm and support equipment. The company is specialised in dewatering and working with 'useless' silt, fine sands, and gravel to re-use them in quays, flood defences, embankments, nature zones, agricultural landfill, etc.
Thank you all for visiting us at Floodex 2019.
Contact: Frits van den Boogaard
M +31 6 20 74 74 64
fvdb@smals.com
www.smals.com