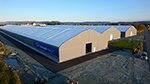 Rubb Buildings Ltd designs and manufactures high-quality, relocatable, and permanent engineered fabric tensioned buildings. The fabric building experts at Rubb have listened to direct requests from clients over the years to provide a portfolio of unique solutions, which ensure our fabric structures, hangars and shelters meet customers' and end users' direct requirements.


Rubb's innovative fabric engineered, modular warehouse structures offer proven storage solutions for a wide range of businesses and operations. Rubb warehouses can be easily converted, adapted or relocated to store additional products, providing a more flexible storage solution. Rubb storage buildings are easily custom designed to accommodate conveyors and other loading methods. Retaining sidewalls can also be integrated to resist lateral loadings.
Our large clear spans and high translucent ceilings provide a bright, efficient working environment. Rubb storage warehouses are built to last but are fully relocatable or extendable to meet changing needs. Our storage buildings have been used to contain everything from biomass to perlite, and often serve as salt sheds for local authorities.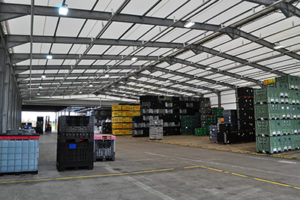 Our high-quality membrane materials and post-production galvanised welded frames deliver durability over time, making the cost of maintaining Rubb storage warehouses more economical compared to conventional structures.
Translucent PVC cladding allows natural daylight to illuminate the storage space while the white roof surface reflects heat. Optional Thermohall® insulation minimises heat transfer, prevents condensation and virtually eliminates thermal bridging and air infiltration.
Rubb offers a variety of different warehouse door solutions. They can be selected and designed to suit all opening requirements. This flexibility ensures that our clients get the best option for their selected Rubb storage warehouse type, depending on their operational needs.
Rubb storage buildings can be quickly erected, dismantled and relocated due to module pre-fabrication. Rubb can provide site supervisors or fully dedicated construction teams to complete any custom project.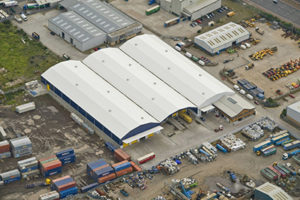 Rubb warehouses can accommodate many foundation options, such as concrete up-stand, ballast weights, and ground anchors into an existing surface. Rubb co-ordination with the groundwork contractor is key for the client to reach the most cost effective solution.
Our established supply chain streamlines coordination of delivery and installation. Pre-fabricated elements and the ability to construct our warehouses in a variety of weather conditions speeds up the construction process.
Custom storage warehouse solutions can accommodate all types of door, ventilation and other systems and safely support high loads imposed by overhead cranes, ceiling-mounted HVAC and fire-suppression systems, fall-protection equipment and other superimposed loads.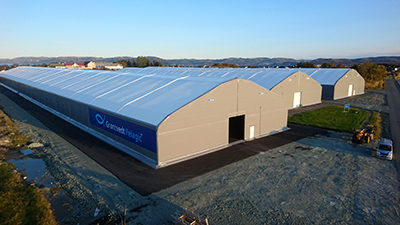 Rubb personnel are on hand to provide help and support, from initial contact to quotation, installation and beyond. Rubb's commitment to customer service continues after project completion and forms the basis for long-term customer satisfaction.
Rental solution for Hart Door Systems Ltd
Rubb recently supplied a rental storage solution to Hart Door Systems Ltd. The structure was previously rented as storage for a furniture specialist. After two years of rental, it was returned to Rubb and given new life as a rental with Hart. This goes to show the adaptability of a long-life Rubb structure.
Rubb was able to offer a 36-month rental contract for a 10m span x 16m long BVR type storage building, featuring a sidewall height of 6m. A 4m x 4m roller shutter door provides access and egress to the storage facility.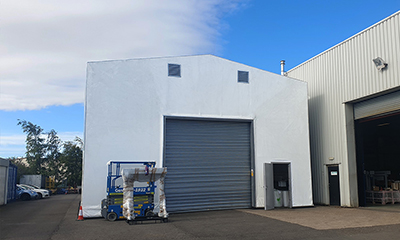 Rubb fabric buildings feature structural steelwork that has been hot dip galvanized to protect against corrosion. The cladding membrane is made using high tenacity PVC polyester fabric, which is flame retardant.
As well as using the structure as a high-quality storage facility, Harts have used the building to prototype a new door system, Speedor Lite, a new variant of its famous Speedor range of high-speed doors.
Harts Marketing Manager, Melanie Rosby, said, "Rubb's temporary building gave us an opportunity to launch the new variant. Speedor Lite retains automatic operation, high-speed and robust engineering for high-traffic situations as associated with the Speedor brand and is therefore a valuable asset in any situation where energy-saving, dust control and so on are important."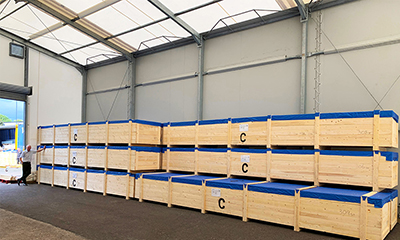 Hart's Speedor high speed door system now features a range of seven automatic, high speed door variants from its Speedor Storm door to Speedor Lite. Together Speedors offer a wide choice of models for use internally or externally across an almost limitless manufacturing sectors – for busy, high-traffic, situations, energy saving, clean room, warehouse/loading bays, vermin and dust control, heat sensitive production processes and hazardous areas.
Rubb is happy to meet Hart's rental requirements with this building, and proud to be chosen as a part of their development of this exciting new door system.
Port of Tilbury still reaping the benefits of 30-year-old Rubb warehouse
Rubb buildings have proven that they are built to last, one example being our warehouse for the Port of Tilbury. The original warehouse, a 30m twin span x 102m long structure, was constructed in 1990 and located at Berth 42, Port of Tilbury. Ten years later, this warehouse was then relocated and extended to 138m long to accommodate a new customer and long-term contract at Berth 45. The warehouse configuration was a drive through facility with openings in the gable. It was then dismantled by a third party in 2015 and put into storage.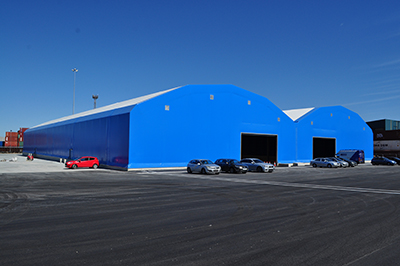 Port officials contacted Rubb to assess, organise and re-construct the stored warehouse, working alongside the main contractor Dyer and Butler. Dyer and Butler is the main contractor supporting Port of Tilbury with the design and build of the port's overall infrastructure project. The project is to improve and create a new rail and road system connecting the Port of Tilbury to Tilbury 2. Dyer and Butler was also responsible for the foundations on site.
The project plans meant the Port of Tilbury needed to relocate a long-term customer Maritime. Maritime specialises in road and rail logistics. Instead of constructing a new warehouse, the 30-year old Rubb warehouse was pulled out of storage and was used to support the relocation and needs of Maritime.
The Rubb team was on site for 10 weeks and the warehouse, now adapted to a 30m twin span x 78m long, is located at Lakeside 2.
Rubb also supplied a health check for all steelwork, new doors and supporting steelwork (new sizes and positions), new lighting and electrics, all new PVC fabric cladding, new sidewall gutters and central symphonic system.
Jenis Mistry, Project Engineer at Port of Tilbury London, said, "The major benefit of Port of Tilbury using Rubb warehouses is the modular design which assists with changing the size of the structures. They can also be dismantled and erected in new locations. The Rubb team were very helpful throughout the process and I would highly recommend Rubb adaptable warehouse solutions."
Rubb's building systems allowed the port to react very quickly to customers' requirements and construct covered warehouse facilities, which can be extended or relocated based on future trade patterns, at very short notice.
Ports and marine developments, which are often built on reclaimed land, can be prone to differential settlement. Rubb fabric structures are not only lighter than traditional fixed buildings, they can also accommodate this differential settlement. The translucent fabric roofing system allows natural light to illuminate the structure and helps save on energy costs. These advantages ensured the growing success of fabric warehouse solutions in the ports, marine and warehouse logistics sectors.
T 0191 482 2211
info@rubbuk.com
www.rubbuk.com