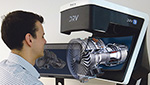 The rise of 3D technology in the manufacturing sector has revolutionised both quality control procedures & new product development. That said, this technology can have constraints, including the need to wear restrictive VR headsets, poor resolution, or issues around using this technology to communicate and collaborate across multiple sites.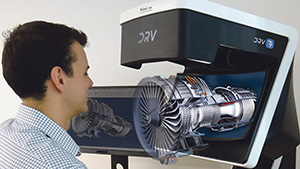 Fortunately, Vision Engineering, leading manufacturer of high quality ergonomic visual inspection and measurement technologies, has created DRV-Z1, the world's first high definition digital stereoscopic 3D-viewer with a magnifying zoom module. This cutting-edge digital technology enables the user to view high definition 3D images under magnification without requiring operators to wear goggles or specialist glasses. In layman's terms, users see a 'floating' 3D image comfortably and without the use of specialist eyewear.
The applications for this new technology are extensive – DRV-Z1's stereoscopic view enables real depth perception which is useful in a range of elements in the manufacturing process. An example would be improved hand-eye co-ordination when reworking small components such as circuit boards.
What's more, DRV-Z1 facilitates network connectivity, meaning the 3D HD image seen on one DRV-Z1 can be shared in real time with another DRV unit elsewhere in the world. Essentially, this means experts all over the world can collaborate in real time in multiple ways – including, reviewing scans using depth of vision to aid diagnosis or viewing complex components, assessing that they are fit for purpose.
DRV-Z1 will be available to test for yourself at MACH 2020 in April, where it is being showcased for the first time.
M 07495 756807
sam.milligan@centropypr.com