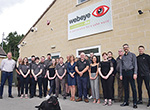 Webeye Limited (formerly VDT) is a leading supplier of high quality alarm and monitoring equipment with unbeatable technical support.
The need for efficient and cost effective technology to improve security provision led us to develop our patented webeyeCMS alarm platform. The automated system acts as a virtual monitoring station because it processes, delivers and escalates alarms. It is a versatile Cloud based solution that enables alarms and video clips to go to stakeholders either out in the field on their mobile phones and/or to a central location for monitoring via a web browser (with no up-front hardware costs).
webeyeCMS provides a full alarm handling audit trail and we also provide system maintenance reporting. The massive increase in alarm handling capability and improved accountability levels has the potential to be a game changer – all for a minimal monthly cost.
We have now teamed up with Calipsa, the false alarm filtering platform, to use their video analytics software as part of our solution. It is included in version 3.1 of our webeyeCMS alarm platform and uses machine learning to filter out alarms that haven't been triggered by human or vehicle motion. The deep learning algorithms enable a reduction in false alarms by up to 85% and is part of our ongoing commitment to prevent crime and improve security.
T 0115 714 9990
www.webeyecms.com