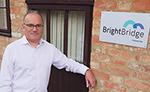 It's hard to go a day without hearing news of how challenging economic conditions are affecting businesses. Whether it is recruitment challenges, supply issues or rising prices, it can feel like a bit of an uphill battle for many leaders and managers, regardless of sector or specialism.
In the face of this, it is essential that organisations have the right systems and business architecture in place to minimise waste and create robust efficiencies. Many external factors are out of a manager's control so it's therefore even more important to prioritise the businesses' procedures we can control and have real-time visibility over, and ensure they are watertight.
When it comes to clear, accurate and automated operational processes, technology is your best friend. If you use a range of disparate systems when managing your product or service-led business, you are very likely making life hard for yourself. By implementing a cloud-based Enterprise Resource Planning (ERP) system, you can streamline processes, gift precious time back to staff and improve customer experience, all while accessing the software from anywhere, seeing a single version of the truth and negating errors thanks to AI and automated workflows.
Don't get caught out by an out-of-development system
Before we get into the nitty gritty, it's worth flagging the dangers of leaving a software change too late. Of course, when major competitors make the move to an integrated cloud solution they will gain an edge over you, but an even greater concern is when you find yourself still using a system out of its development lifecycle. From now out-of-date Microsoft AX 2012 to Sage 1000 and SageLine 500 which have end of development lifecycles on the horizon, such systems won't be updated with new functions, features, compliance updates or security patches. Using out-of-date software can significantly and negatively impact operations. And efficiencies fit for 2022? What efficiencies!
If you use Sage or another legacy financial solution in your business, however, don't panic. Migration isn't the huge outlay you might initially imagine and a reputable solution provider with sector experience will facilitate a seamless transition, comprising a structured path with phases of analysis, design, system build and then enabling the customer through training and supporting go live. The cost of a considerable functionality upgrade in Sage – when that was an option – would have been comparable to a complete migration to a modern, cloud-ERP system like NetSuite, which is primed to help you minimise waste and drive growth.
Five tangible and immediate benefits of an integrated ERP solution
1. Maximise efficiency in the supply chain
According to Logistics UK, pressure on supply chains is set to last throughout 2022, for multiple reasons, not least a shortage of workers and the knock-on effects of global supply issues. If you are running a product or parts-led business, it's never been more important to keep track of what is coming in and going out and being able to accurately track orders and forecast future requirements. Over-stocking products can lead to complications as well as a lighter purse, from having to pay for unnecessary storage to potentially discounting to shift stock.
By implementing a cloud-based ERP system you can monitor supply chain status in real time with alerts, from initial planning of acquisition and delivery through to execution. Smart supply allocation features allow control and strategic flexibility over stock coming in and going out. And it can intelligently show you where the priorities lie, and the risks lurk, in terms of fulfilling stock requirements in appropriate time frames. In essence, it allows for a complete 360-degree view of operations ñ by integrating all elements into one single version of the truth.
2. Support a remote workforce
Service-led companies may not have physical product that requires tracking, but they can still benefit by exploiting technology to increase efficiency. Internal resource must be closely managed to ensure projects are completed on time and meet customer requirements. Furthermore, the pandemic has changed many people's working habits and preferences, and in professional service industries, remote working has become the norm.
Cloud ERP solutions enable streamlined remote workforce management from wherever in the world employees are operating. This reduces time liaising individually with team members and is likely to increase productivity and ultimately the bottom line. It also allows for organisational departments to all have the same 360-view of the business, by utilising the same systems and pieces of the jigsaw to collate and analyse data. By delivering accurate information in real-time, everyone can always be on the same page.
It's also not just for big business. SMEs in sectors as diverse as software, financial services, training or marketing can utilise functions which facilitate enhanced understanding of projects, resource planning, budget tracking and more across all departments, from accounting to marketing.
3. Maximise accuracy
With increasingly tight margins, it's more important than ever to ensure data is accurate and watertight. The more siloed data systems a company has, and the reliance on manual processes, the more room for error. But with one source of integrated and automated information, the likelihood of inaccuracy – and therefore wasted time and money – is greatly reduced.
One company that saw the benefits of this was retail giant Crafter's Companion, which had historically been manually handing its order shipping. It was an intensive continual exercise. Now with the use of a fully integrated NetSuite solution and BrightBridge carrier integration, Crafter's Companion can rely on a single carrier portal. Details such as barcodes, delivery address labels, tracking information and return labels are all managed through NetSuite so the task at hand requires less resource and there is far less risk of error.
4. Maximise opportunities by having one single source of truth
More retail businesses are embracing omnichannel sales in their approach – offering customers a seamless and consistent shopping experience whether in-store, via a website, app, smart speaker or through a third-party like Amazon. If a brand wants to go down this route, they need to ensure it works. Maintaining a perfect customer experience can be a challenge, certainly if you aren't making the use of the technology available.
A unified commerce platform brings together everything (front and back-end systems, financial information, sales and marketing, plus supply and inventory management), providing a 360-degree view of the business. The simplicity of being able to view all customer activity and ensure the marketing approach is consistent across all touchpoints is hugely beneficial from an efficiency, and therefore profit perspective. With just one central 'truth' in terms of customer interaction and purchasing activity, decisions can be made swiftly and accurately in terms of intelligent, automated marketing and communications.
5. Make accurate predictions
Knowing what is going on in the here and now is one thing, but for a business to grow, it's essential for its leaders to accurately project future requirements, ensuring customer needs can be met, whether in terms of product supply or staff availability. This can be particularly pertinent for SMEs where margins are tighter, and the impact of over/under stocking or having too many or too few staff available can be costly.
That's why platforms that use artificial intelligence will become critical in future-proofing your business. ERP solutions and add-on built-for-the-software apps make budgeting, planning and forecasting a breeze, as they do the work of bringing the data together intelligently. Whether that's across the whole business, specific regions, certain stores, product lines or single items ñ you choose. For example, firms in the manufacturing and distribution sector can take advantage of AI to predict and effect the ordering of components and products based on data such as seasonality and previous customer activity.
______________
There is simply no excuse to still be using manual processes in 2022, but we all know companies tied to spreadsheets, multiple on-premise software and even endless paper trails. These practices are doubtless losing companies everywhere time and money through manpower, costly mistakes and the inability to precisely forecast.
Whether its inventory management, remote workforce systems or understanding customer behaviour to be able to respond intelligently, there are myriad ways that an ERP system can benefit a business. As we all look ahead to challenges that are likely to be ongoing into 2023, businesses that will come out the other side thriving will be the ones that minimised waste, maximised efficiency and ultimately, exploited the opportunities that technology offers. That's how to get and stay ahead.
______________
Ian Robertson is the Sales and Marketing Director of BrightBridge, a UK-based technology consultancy offering Oracle NetSuite and Microsoft Dynamics 365 solutions. Ian has over 30 years of experience in ERP and CRM implementations. Prior to forming BrightBridge, Ian worked for a major US IT corporation, where he acquired a depth of knowledge around time saving efficiencies through technological integration and automation.
www.linkedin.com/company/brightbridge-uk
www.twitter.com/brightbridge_uk