As bars, restaurants, non-essential retail and workplaces continue to welcome back customers and employees following the lifting of the second national lockdown, new research reveals that UK consumers are increasingly anxious about the impact of indoor air quality on their chances of contracting the virus. According to a survey commissioned by CleanAir Spaces, the majority (56%) of Brits think more about indoor air quality than before the pandemic hit.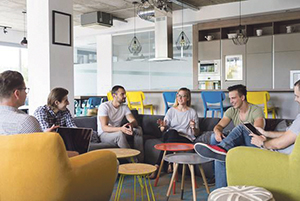 While millions of people have been welcomed back by the hospitality sector over the last week (with or without a substantial meal), less than a quarter (24%) believe that the air quality inside pubs and restaurants does not increase their chances of contracting COVID-19. In fact, more than half (53%) are confident that the air quality inside venues does impact their chances of catching the virus.
However, perhaps illustrative of the Government's challenges in communicating the science around COVID-19, nearly a quarter (23%) of UK consumers don't know whether air quality in venues would increase their risk.
The findings, based on a nationally representative survey of n=2,085 adults throughout the UK conducted by polling company, ORB International, suggest that businesses have a lot to do to make visitors feel safe within their environments, but also offer an indication on how they can answer those concerns. Nearly half of respondents (47%) said that an air quality rating system would help them to choose one venue over another.
"People will be finding it doubly hard at this time of year not to be able to socialise as normal, but the research shows that concerns about stepping into pubs, restaurants and other indoor spaces remain high," said Pablo Fernandez, CEO of CleanAir Spaces. "Even with vaccines beginning to roll out before the New Year, this wariness will take some time to dispel and businesses will need to think hard about how they can instil confidence in patrons and employees alike."
The findings suggest that women in general are more concerned about indoor air quality than men, with more female respondents (59% versus 54%) reporting that they are thinking more about indoor air quality. Male respondents were also more dismissive of the link between air quality in venues and an increased chance of contracting COVID-19 (28% of men versus 21% of women).
Unsurprisingly, based on the skewed impacts of the disease, fewer younger respondents reported experiencing increased anxiety about indoor air quality, than older: 48% of 18-24 year olds agreeing it was playing on their mind more, versus 60% of the over 65s. Differences in regional attitudes were also apparent with Northern Ireland having 74% of people more concerned (although note the low base size of n=61), compared with just 44% in the North East. Similarly, the North East had the highest percentage (35%) of respondents believing that air quality inside pubs and restaurants wouldn't increase their chances of catching COVID-19, compared with just 19% in Scotland and 17% in Northern Ireland, where concerns are clearly higher.
CleanAir Spaces' technology is being brought to market in the UK by BioTech Group. The system treats indoor air with water vapour and hydrogen peroxide forming ions that circulate the air within this space. These ions cover surfaces and affect the lipid membranes of virus cells. This results in the cells becoming inactive and losing their infectious capacity, leading to a lowering the viral load in an indoor space. It is proven to remove more than 99.9% of viruses and bacteria in air and on surfaces. It provides continuous disinfection of surfaces for 24 hours a day, 7 days a week – drastically reducing harmful microparticles.
Steven Skerrett, Director of BioTech Group, added, "We have noticed in our discussions with industry leaders across the UK that there is a far greater focus on indoor air quality post-COVID-19. There is appetite now to change our indoor gathering spaces for the safety and health of all and it is important that the country seizes that opportunity as we come out of the other side of this pandemic."