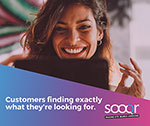 Imagine going into a boutique, on the lookout for a red leather jacket.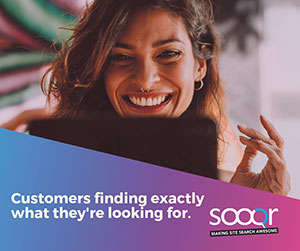 The salesgirl listens, nods her head and gets to work. Twenty minutes later she's back. In her arms: a red raincoat, a black leather jacket, and a pair of red socks. You look at her, surprised. "I asked for a red leather jacket." Her response, "Sorry, I couldn't find one. That's why I got you these instead."
This scenario might seem unbelievable, but it actually happens online, often. Long waits & non-relevant results are every day's business. With every waiting second, up to 30% of potential customers click away. The solution? Optimised site search: enhancing the search within a website. Sooqr Search does just that and lets customers find exactly what they are looking for.
Sooqr searches in every relevant field, letting visitors see filtered and relevant results instantly, even when a misspelling is made.
It can be integrated into any website and (e-commerce) platform easily. Sooqr Search works on any platform and gives you many unique money-making features.
With Sooqr, your conversion rate will grow because your customer will find, smile and buy. More information? Please visit us at: www.awesomesearch.co.uk or give us a ring on +44 (0)20 3318 3604.