Clivet rooftop and heat pump units have been installed at the EATALY pavilion at EXPO 2015 in Milan.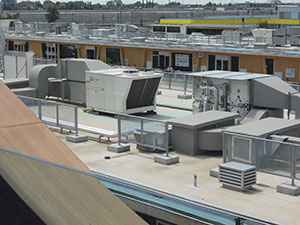 The EXPO is dedicated to Italian biodiversity.
Overlooking the main street of EXPO, EATALY is not just a restaurant but a place celebrating biodiversity: food processing, human, landscape and art.
The pavilion covers 8,000m², divided into two buildings, plus a large garden. Along with specialties cooked by the best Italian chefs, EATALY offers visitors the opportunity to admire 350 masterpieces of Italian art, from the Middle Ages to now.
For visitor comfort in the two buildings, 10 Clivet rooftop systems and six Clivet heat pumps have been installed – chosen by consultant Cefla for their energy efficiency and ease of installation.
Clivet rooftop units have:
Innovative thermodynamic energy recovery of the exhaust air through a dedicated THOR (THermodynamic Overboost Recovery) exchanger, which recovers the energy contained in the exhaust air
An air quality probe, which measures the CO2 amount in the environment and sends the controller a signal
A hot gas re-heating coil, which guarantees the correct temperature of air the intake after summer dehumidification.