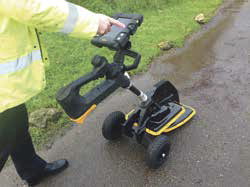 Business and Industry Today is extremely proud to present Oxford Electromagnetic Solutions Limited (OXEMS) as its Asset Management Systems Company of the Month.
OXEMS was formed in 2010 to fully develop and commercialise an underground-asset management system, one element of which is a new passive tag (now patented) pioneered at the University of Oxford. The Company provides a smart asset management service for underground assets: pipes, cables and fittings in water, gas, electricity and telecommunications utilities, as well as private estates such as ports, airports, military establishments, industrial complexes and housing developments.
The state-of-the-art OXEMS Asset Management System consists of three integrated components: Tag, Detection App and Database. OXEMS Tags are attached to 'points of interest' on assets (for example, joints, ferrules, bends and so on) and are then directly re-locatable using OXEMS' patented RFMR™ (radio frequency multi resonator) technology.
Crucially, all of the intelligence about buried assets is held in an integrated cloud-based database that can accommodate unlimited amounts of stored information. And no in-street programming is required, making Tag attachment quick, easy and error free. Once a tag is attached, its x, y and z coordinates and any number of relevant photographs and text data are easily added to the database, automatically 'locked on' to the relevant Tag. Specific topics of information, which can include any and all details of interventions, are selected by asset owners to suit their requirements.
Kevin Gooding, VP of Operations at OXEMS, makes the point that, "We offer smart asset management through underground network visibility. We are the only buried-asset management system which auto links a precise physical point in the ground to a digital point in a database.
"Consequently, the OXEMS System provides major improvements to the way assets are managed: it enables utilities to achieve improved job performance and quality of workmanship, better sustainability and customer outcomes, improved health and safety and, progressively, cost reductions.
"At the core of the System is the fact that we can link a digital point in a database to a physical point in the ground. It means that our clients have total confidence in their ability to locate and re-locate points of interest on underground assets with pinpoint accuracy. This precision results in smaller, less time-and-cost consuming interventions, less spoil removal and reinstatement, fewer instances of collateral damage, and less disruption in local communities and a better carbon footprint. Where appropriate, of course, this enables the use of Core 'n' Vac techniques. And once the link is in place, data, in whatever format required, can be automatically added and retrieved with ease.
"Not only are the OXEMS tags less expensive than alternatives, but they also last longer than the asset itself – they have been independently verified to prove they can last a lifetime – 100 years – even in water! It's a unique System."
The company is planning to extend operations internationally, "By continuing to add value to the complete solution we have been able to demonstrate our responsiveness to client needs. After successful trials within UK utilities, OXEMS is planning to roll out its products and services on a global basis. We have identified markets in the Far East, United States and mainland Europe."
OXEMS head office is in Oxford, and there is an additional operations facility at Adastral Park in Martlesham, just outside Ipswich.
OXEMS' first participation at the No Dig Live in 2014 was a great success and they will be returning to the next edition in 2016. They will also be exhibiting at the Institute of Water annual conference in 2015, and are the main sponsors at the forthcoming Global Leakage Summit in March.
Contact
T 01473 633101