What is a Smooga?
Smoogas are portable, Smart Multi Use Games Areas or arenas – ideal for playgrounds and playing fields.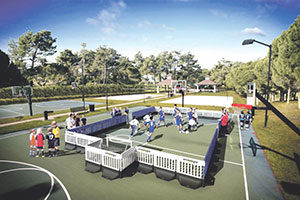 A 'Smooga' can be any size and almost any shape which means that most sports and games can be played in a 'Smooga'.
What does a Smooga do for you?
A smooga improves your PE environment, promotes skills development, higher levels of inclusion, fun, excitement and engagement.
Smoogas remove conflicts in the playground, making better use of available space and creating safer environments for all.
How do you use your Smooga?
Smoogas are used in over 150 schools around the country for games such as: hockey, handball, football, movement and dance, scooting, drama, maths, roller-blading, cricket and much more.
How do we work?
We have assembled every Smooga installed in the schools around the country so far. Wherever you are, we will help. We stand for integrity, honesty, approachability and fun.
T +44 (0)1865 301917
keith@smooga.co.uk
www.smooga.co.uk