Here at Business and Industry Today, we are committed to recognising companies which are leading the way in their industry, offering only the highest quality products, services and customer experience. For this reason, we are proud to announce that Just Brothers & Co has been chosen to receive our Jewellery Packaging Company of the Year award. For nearly 60 years, Just Brothers & Co has been offering high quality jewellery and gift presentation cases and display in the UK, and has built an enviable reputation as one of the best known quality suppliers in the country.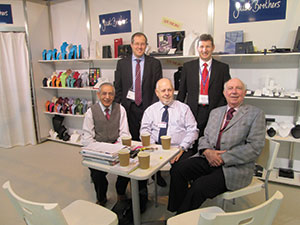 Established in 1962, Just Brothers & Co is based in north London, supplying its products across the UK as well as operating in the export market all over Europe and beyond, reaching further out to places such as America and Australia. In these worldwide locations, Just Brothers & Co supplies point of sale material for the jewellery, watch, and gift trade, including packaging, jewellery sundries, carrier bags and window display.
Packaging can make all the difference in the sale of jewellery; from the finest jewels to everyday wear, the way these products are displayed contributes significantly to the customer's impression of their aesthetic qualities. Attractive and high class packaging can also help to enhance the experience when receiving jewellery as a gift, something which can eventually make or break a sale.
Certainly, the packaging should indicate the nature of the product, matching the sophistication that is associated with such high class accessories. This is why Just Brothers & Co is dedicated to ensuring both corporate and smaller independent customers have access to jewellery packaging and display that will ensure their products are presented in the best possible light.
"We work across the board, selling to high street jewellers, large multiples as well as independents, wholesale and retail; we have over 1,000 customer accounts," Michael Just explained. "It's been a challenging year due to the uncertainty in the current marketplace but we've remained steady. We've widened our choice of window display items with more vibrant and brighter colours. We've also introduced a range of modern looking high class wood products, and we have seen an upsurge in sales in this area."
These new luxury wood products complement Just Brothers & Co's existing large range of wood boxes that come in different shapes and sizes to suit any requirement, and are available in a natural light wood, highly polished mahogany, or glossy black. All of these are available off the shelf for immediate delivery.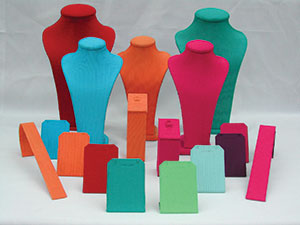 Offering an extensive product range, Just Brothers & Co provides wood, leather, leatherette and card presentation cases, as well as carrier bags, pouches, pearl wallets, jewellery rolls, stock trays and cases, and jewellers' sundries. What's more, the company can offer presentation cases for pens, watches, cutlery and leather goods, as well as a varied selection of jewellery displays, some of which can be made to order in various colours and covering fabrics to complement existing jewellery boxes and presentation cases.
Just Brothers & Co's display units for jewellery and gift presentation are available in stylish 'PU' and acrylic materials, all of which are available for immediate delivery. The company's range of velvet, Nabuka and Bengaline displays are made to order, which can be obtained within a few weeks of ordering. This speedy service means that Just Brothers & Co's customers have the flexibility to change their jewellery displays easily, enabling them to add to and update their existing displays and create a whole new look for their windows in a short time at a relatively low cost.
As well as Just Brothers & Co's extensive product range, the company particularly specialises in bespoke designs, boasting a wealth of experience working with customers to produce boxes and packaging to their own specific requirements. "We have an internal team which collaborates with the customer to create bespoke products. One of our key benefits is that we are one of the only companies which offers this service for smaller quantities, making it great for smaller independent shops, looking to create their own unique image, not just for corporate customers," explained Michael.
With such an extensive history of offering the highest quality jewellery packaging products, Just Brothers & Co is more than qualified to meet your needs, whether you are looking for less expensive card boxes for jewellery and gift presentation, or extremely high class leatherette and luxury wood presentation cases.
If you would like to find out more information on Just Brothers & Co's full product range, head to their website or get in touch using the contact details below.
T 020 8880 2505
info@justbros.co.uk
www.justbros.co.uk