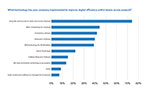 New research suggests that nine in ten firms still rely on paper on-site, exacerbating preventable productivity drains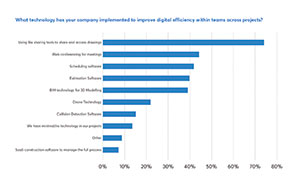 Productivity in UK construction firms is being held back by the same challenges as twelve months ago, as efforts remain slow to adopt digital technology for the jobsite. According to Digital Groundwork: Closing the Productivity Gap, a new report from Autodesk Construction Solutions, half of businesses say that dealing with mistakes remains the most unnecessary resource drain on the business.
The survey of 251 construction professionals in the UK follows on from 2018 research by PlanGrid, exploring how firms' efforts to improve productivity have progressed.
As in 2018, issues with information-sharing on the jobsite are causing delays and wider operational challenges. Survey responses revealed three in ten firms are being hindered by a lack of accurate and timely information (28%), with half of professionals pointing to inefficient processes across the business (55%).
Construction firms are still struggling to collaborate effectively, without a source of shared and reliable information; 60% of businesses say that a lack of trust between contractors and subcontractors often impacts their performance. All of this comes at a time when using labour productively has never been more important, as professionals highlight that a lack of skills (40%) and talent shortages (39%) are major barriers to their organisation.
There has been progress in adopting some technologies, such as file-sharing tools like Dropbox to access drawings (74%); however, these tools don't appear to be making it into the hands of people on-site.
A quarter of businesses admit to having a complete absence of technology strategy (26%), while most businesses simply buy tools on an impromptu basis (36%). Meanwhile, only 50% of professionals say that improving digital skills will be a focus for the business over the next three years.