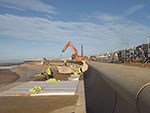 Having recently been awarded as one of the Top 10 best exhibitors at the Marine and Coastal Civil Engineering Expo's tradeshows, Low and Bonar are reputed as industry frontrunners for their advanced fabric materials which have been sold in more than 60 countries world-wide.
Low and Bonar is a London-headquartered company that is globally renowned for its competency in providing high performance materials for the building & industrial, civil engineering, coated technical textiles, interiors and transportation sectors. Manufacturing plants and sales offices are based in Europe, North America, the Middle East, India and China.
Its activities revolve around the development and supply of fibres, industrial/coated fabrics, composite materials and yarns, all made using state-of-the-art technologies. With an array of products, all engineered for each specific end-use, Low and Bonar assists businesses across the world to save water, generate cleaner air, encourage higher crop production and contribute to more comfortable working and leisure spaces.
If you are seeking industry leading fabrics and fibres for use in your systems, then be sure to get in contact with Low and Bonar today. To find out more information about how their technologies can benefit you, then be sure to visit the website detailed below.
T 01482 379218
www.lowandbonar.com