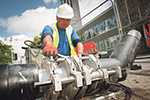 Flexenergy's energy-saving Flexalen pipe was the ideal solution for Plymouth City Council when a new district heating scheme meant re-routing the pipe network from new gas boilers to serve offices in the Council House.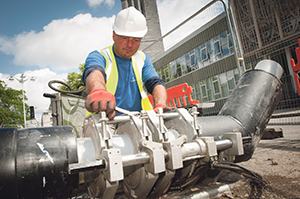 The Civic Centre, located alongside the Council House, had a gas boiler system which served the council offices. The Civic Centre is being serviced separately to enable its disposal for re-development. The Council House will now be fed from the new Guildhall boiler installation via the underground heating pipework.
Plymouth City Council specified Flexalen polybutylene pre-insulated pipe for the project – choosing the technology for its enhanced thermal properties, low embodied carbon, ease of installation and 50 year performance warranty. Contractors ECS have installed the network comprising of 31in no 12 metre lengths of pipework and 16 pre-fabricated bends, insulation kits and stub flanges.
Polybutylene is the only plastic pipe heat network system that can be fully fusion welded. This, together with its proven longevity, was a key factor in laying the 372 metres of pipe from the Guildhall, across a pedestrianised area to the Council House. Moreover, the environmentally-friendly attributes of the pipe's Pb technology and its low carbon manufacture, also helped meet sustainability goals, which were very important considerations given that the scheme is set to include biomass energy generation in due course.
Plymouth City Council expects the upgraded heating system to save £10,000 a year through energy efficiency, thereby optimising its whole life investment in district heating – savings achieved in part through Flexenergy's environmentally-friendly, low carbon pipe technology and network design.
T +44 (0)1592 773167
www.flexenergy.co.uk