The Italian company based in Bergamo (Lombardy) opens a new branch in London with four UK based team members, launching the brand-new platform, which can act as an automated data analyst, and accessible to all SMEs.

What if a company could reinvent market research that requires weeks or months of work, in just two hours? What if it could analyse tens of thousands of web pages every hour looking for an ideal business partner? Welcome to the world of Matchplat. The Italian company is launching in the British market 'Matchplat Explore,' a new platform able to support companies in the development of their business, thanks to automated market research and Artificial Intelligence. Thanks to Matchplat Explore, companies will be able to build valuable relationships online, opening new opportunities and optimising investments for business relationships through trade fairs, travel and meeting opportunities.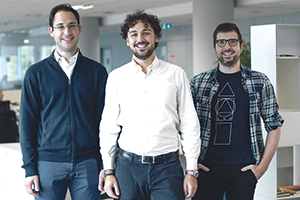 "Matchplat allows companies to change their way of making decisions," said Andrea Gilberti, CEO and founder of the company together with Elia Calissi and Yuri Sabbadini. "Thanks to up-to-date quality data. With 'Explore' each user has the right tool to find best suited markets to reach their goals. In the increasingly dynamic environment of B2B trading, Matchplats solutions were born from the concept of web democratisation: equal services for each type of company, placing all our customers on the same level."
The recruitment plan is to have a total of 30 employees split between Germany and United Kingdom by the end of 2023. Matchplat decided to focus on Germany and the UK for two reasons: the size of the manufacturing sector in Germany – which according to Eurostat is the EU country with the highest value of sold industrial production – and the changing economic scenario in the wake of Brexit, which will require UK companies to create new strategies.
Companies operating in the B2B sector are facing strong challenges in the management of their supply chains and the current geopolitical scenarios, together with the pandemic crisis, which has strongly impacted on these dynamics. Matchplat is the solution for all those companies put in crisis by the pandemic, helping them to build new business relations in a different way.
"Alongside these companies there is now Matchplat Explore," explains Gilberti. "Matching a global database containing all active companies in 196 countries with Artificial Intelligence algorithms developed by Matchplat. Explore is able to replicate all the activities of a Data Analyst. The platform helps our clients in finding new suppliers, distributors, business partners or customers. Each client can take market research in a personalised and automated way, optimising the workflow in terms of time and money."

The uniqueness of Matchplat: Quality of data classification combined with Artificial Intelligence
Matchplat's success is based on two elements: databases and Artificial Intelligence algorithms. Matchplat's database contains data from over 400 million active companies in 196 countries. The uniqueness lies in their cataloging: no longer through industrial codes, but on the basis of the activities really carried out by companies. Matchplat Explore 'extracts' keywords from companies' websites – which are normally accessed by hand and combines them with data collected from public and private institutional sources. Thanks to this, the data is constantly updated and turned into detailed and reliable information. The combination of these databases, with international coverage, and the technology developed by Matchplat, allows companies to achieve more effective solutions, on one hand reducing working times and costs, on the other hand increasing the quality of results in their market research. The platform sold as a SaaS (Software as a Service) model, also offers the opportunity to scale sales and internationalise the business more quickly.
Matchplat: The identikit of the company
Matchplat addresses the B2B market working mainly with production, trade and service companies all over the world. Matchplat offers their services for marketing and supply chain, based on the elaboration of a database that contains the data of 400 million companies active in 196 countries. Through advanced technological processes, the company is able to extract updated and correct data and transform them into useful information for the market. Matchplat sells its products through consulting services or through digital platforms and automated technology tools.
Contacts Kam Heyeer,
M +44 (0)7512 743216
kam.heyeer@matchplat.com
https://www.matchplat.com/en