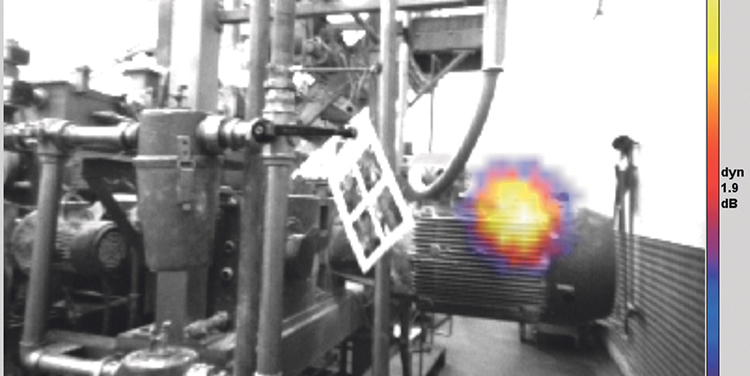 Business and Industry Today is proud to announce that Acoustic Camera UK Ltd has received our Acoustic Technology Company of the Year award.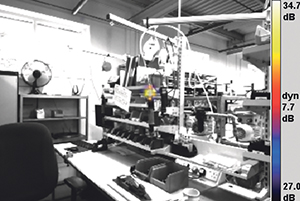 "We are very proud to have been selected for this prestigious award, since we feel that readers of Business and Industry Today are exactly the ones that will benefit the most from the energy savings and lower workplace noise that this revolutionary technology makes widely available," said Richard O'Sullivan.
But what is Acoustic Camera UK's innovative technology, the SOUNDCAM? If you've heard of thermal imaging, where heat sources are shown as colour on a live video, then you'll understand the premise behind the SOUNDCAM's impressive acoustic technology. Instead of having to guess which machines or parts of them are responsible for noises and faults, you can look around and see them live on the SOUNDCAM's screen, and record them as you would a normal video or photograph.
Along with offering numerous features and high levels of accuracy, the SOUNDCAM is easy enough to use for those without acoustic expertise. Those working in health and safety and general maintenance on site can now easily identify sources of sound and address them as needed. "It is battery powered with a touchscreen, making it highly portable as well as being durable and waterproof. It is as easy to use as a mobile phone."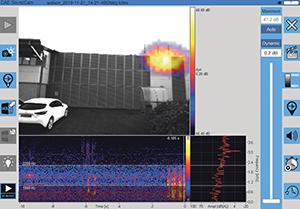 The camera offers unbelievable quality, accuracy and portability using state-of-the-art German technology. "The German company that makes these is the world market leader in this area, but up until a year ago when I set up Acoustic Camera UK, there wasn't a distributor here," explained Richard. "We can offer this market leading technology at extremely competitive prices, and it offers much better performance than others in this specialist market."
The SOUNDCAM is ideal for preventative maintenance for plant and machinery. It can be programmed to detect if an unusual noise occurs, which triggers the device and alerts you to a potential issue with the machine. This means the equipment can be serviced before it shuts down completely, minimising the risk of excessive downtime and its consequences on operations.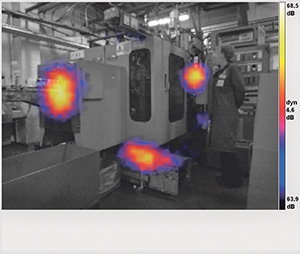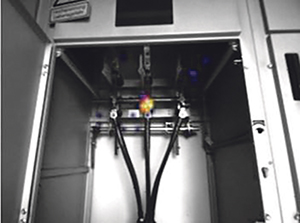 "It's also excellent for maintaining appropriate health and safety standards in regards to sound levels. The traditional sound level meter is omni-directional and can only show that noise levels at the worker's station are high. It gives no information about the loud sources.
"The SOUNDCAM shows a colour map of the whole spectrum of audible sound, with the highest levels being clearly highlighted. You can then bracket these frequencies and the source shows up on the live camera picture as a flame of colour. Maybe a fan has become loud, or the seals on a noise enclosure are leaking – these would show as yellow flames overlaid on the live video picture, which you can also save as screenshots or full videos. So, you can instantly discover the loud noise sources, and then address them to reduce worker's noise exposure."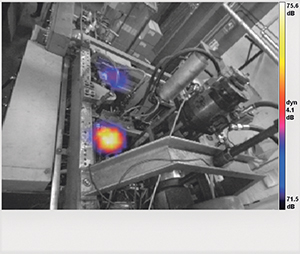 And, despite the difficulties of the last year, there have been some exciting developments both for Acoustic Camera UK and the SOUNDCAM technology. "Like most companies we have adapted to the current situation, and for us and our customers we have come up with some very positive advantages of the last 12 months.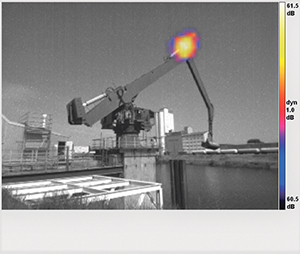 "We increased our demo stock so that instead of time consuming and expensive customer visits, we can now post a SOUNDCAM to a potential customer, along with instructive videos, and then do a video demonstration at their convenience. Having learned how to use the SOUNDCAM, they can then spend a few days trying it out at their own location, free of charge, and completely COVID safety compliant.
"We are also happy to rent our SOUNDCAMS, and provide consulting services. Many customers have either rented a SOUNDCAM themselves or arranged for our experts to visit with our complete acoustic camera range, to help them locate an annoying noise source quickly."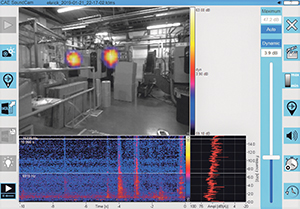 In addition to this, the German manufacturer of SOUNDCAM releases software updates with new and improved features for the device nearly every month. "One excellent new feature allows the recording to be automatically triggered when a sound above the specified level is detected within the field of view," Richard explained.
"They have also just released a new SOUNDCAM 2.0 with its frequency range extended right up into the ultrasound area up to 80kHz. This makes it perfect for all kinds of gas and fluid leak detection, as well as electrical discharges, which companies are using to make large savings of energy and CO2. We are very happy to help save our planet – one customer is even using it to locate bats!"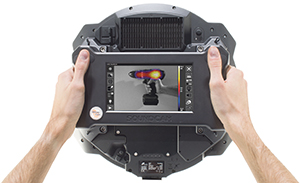 In addition, by the end of April, Acoustic Camera UK will have launched its new generation of the Bionic range of acoustic cameras. "This is a very exciting product, since it will combine the ease of use of the SOUNDCAM with the complex capabilities of the modular Bionic range. This puts the incredible capabilities of visualising sound sources across the complete audible and ultrasound ranges into the hands of anyone capable of using a smartphone! This is unparalleled accessibility of this exciting technology.
"Before the first iPhone, which was only 14 years ago, most people could not imagine the benefits of having a powerful touch-screen computer in their pockets. Back another 20 years when mainframe computers filled air-conditioned rooms, the personal computer (PC) was an unheard of concept. Now we have the world's first truly portable and easy to use Sound Cameras, which make sound visible."
Indeed, the list of applications for this exciting technology is growing exponentially. So, get in touch with Acoustic Camera UK to see how they can revolutionise your condition monitoring of critical plant, energy saving, noise control, and much more.
T +44 (0)121 318 6600
ros@soundcam.uk
www.acoustic-camera-uk.com