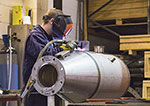 Gericke Mk II Package Vacuum systems offer the advantages of a full turnkey pneumatic conveying system with the flexibility and availability of standard 'off the shelf' components.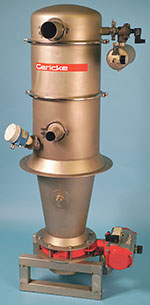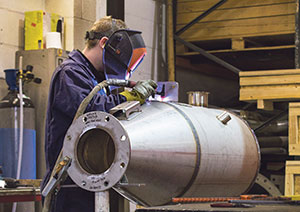 The modular range of standard components can be combined to form a complete tailored system to transport powders, granules and most bulk solids.
Vacuum receivers are available in 3 sizes, GV5, GV35 and GV120, are ATEX rated and can convey capacities up to 3,500kg/hr and over distances up to 100m.
The Gericke range of Package Vac has been specifically designed for use in food, chemical and pharmaceutical applications. Systems can be adapted to many process applications including; sack tip and FIBC unloading, transport to feeders, mixers, mills and packing lines.
Eliminate compressed air running costs
Utilising energy efficient electrically powered systems to generate vacuum, the need for high energy consumption compressed air powdered Venturi systems is eliminated, with a saving of up to 17kWh.
The concept and design of the Package Vac system provides dust free conveying, has very few moving or wear parts and uses quick and easy strip down using clamping systems and fast changeover parts enabling rapid dismantle for cleaning and validation.
Why use a Package Vacuum System?
Negative pressure prevents dust leaks to atmosphere
No moving parts in contact with product
Small bore pipework with correct air velocity ensures no residue in pipe
All components in package are matched for maximum efficiency
All package vacuum components are fabricated and manufactured in the UK
T 0161 344 1140
www.gericke.net