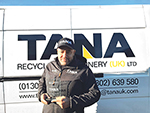 In this issue of Sustainability Today, we are pleased to announce TANA Recycling Machinery UK as our Solid Waste Management Company of the Year.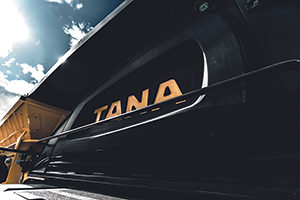 TANA was established in 1971 and has been at the forefront of designing and manufacturing robust machinery for the purposes of solid waste management ever since. With decades of experience on the needs and requirements of landfill and waste management operators, TANA launched its UK distributor TANA Recycling Machinery UK, with an aim to bring a touch of Nordic expertise and engineering know-how to the UK. TANA Oy is based in Finland, but TANA Recycling Machinery UK operates out of its South Yorkshire headquarters in Doncaster.
In just under 50 years of trading, TANA has grown to be a global name and since May 2016, TANA Recycling Machinery UK has been at the forefront of delivering unmatched versatility to the UK recycling industry. To mark a successful five years of trading in the UK, TANA Recycling Machinery UK has gone on to receive the International Dealer of the Year award for its outstanding performance.
TANA Recycling Machinery UK has a mission to provide customers with simply more money on the bottom-line with cutting-edge technology in solid waste management. All products are manufactured and designed from the TANA headquarters in Finland. Although boasting a successful first few years, the last 12 months have been testing times for the business. Brooklyn Walker, Sales Manager explained, "The last 12 months have been a challenge as I'm guessing it has been for the whole industry but with our great team and brilliant products, we have managed to overcome challenge after challenge and strive in these difficult times. In terms of sales, we have managed to outperform our sales target once again. The problem we are faced with is keeping up with the demand for our machinery, with prices of material increasing and with over 50 countries all selling TANA machinery our suppliers are working hard to keep up with our ever-increasing sales."
All TANA products aim to provide maximum efficiency and profit to make waste management businesses thrive. TANA machines are designed with skill and experience using the best components and materials available.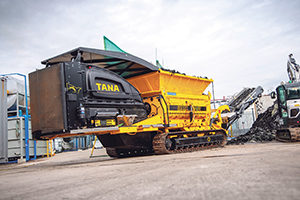 When using the right machine, waste can be transformed into valuable raw materials. Reducing, re-using and recovering waste to manage waste sustainably can be done profitably. Efficiently recycling waste by conventional means is notoriously difficult, and in most cases only a certain percentage of the waste ends up recycled. But what if there was an easier way that recycled waste from a variety of materials? Developed to tackle the challenge of solid waste management, the TANA Shark industrial waste shredder is the most versatile shredder on the market and the perfect machine for handling different waste materials that can change even on a daily basis.
"We are lucky enough to have the most versatile machine on the market in regard to the TANA Shark Shredder. Be it general waste, mattresses, tyres, wood, plastic, C&I, C&D the Shark can handle them all and more. Pair that with excellence in service and you have a winning formula," said Brooklyn.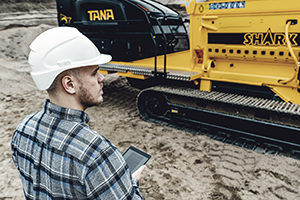 There is a large gap in the market for industrial machines to aid in the material recovery process of turning waste into valuable raw materials. TANA Shark industrial waste shredders are the optimal choice for handling large amounts of recycled materials. TANA offer a solution and has drawn on its wide range of expertise to create a machine that runs off a control system that has an adjustable rotor and conveyor speeds, overcharge pressure limits and rotor options to ultimately make production flexible and optimise shredder operation from one waste to another easily via a touchscreen.
There are many applications to which the TANA Shark shredder can be used. The TANA Shark can shred all kinds of end-of-life tyres. These could come from cars, trucks, aircrafts and heavy-duty vehicles and can be really difficult to recycle. The TANA Shark uses high-torque shredders to make it possible to shred tyres to an 80mm particle size in just one pass and separates most of the metal wires directly from the shredded material flow on the conveyor. The steel wiring is removed in the shredding process and by an over-band magnet in the unloading conveyor. Once separated, shredded tyres and metals can be sold and reused in many ways. This process offers the chance to generate income from end-of-life tyres as the tyre parts can be used for other processes such as asphalt companies who would be interested to buy large quantities of shredded rubber crumbs to mix with their hot melt asphalt to make pavements cheaper. Furthermore, other road companies would also benefit by utilising the shredded tyres to use in road beds to minimise vibration and for highway sound barriers.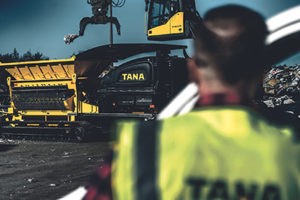 Construction and demolition waste such as wood, stone, plastic, aluminium profiles, insulation materials and reasonable amounts of concrete can also be easily handled by the TANA Shark. Construction and demolition waste accounts for more than a third of all waste generated in the EU. The demands these industries put on recycling of waste they produce cannot be met by any other shredder on the market. The TANA Shark is incredibly efficient, and the TANA Control System controls the shredding of these harsh, bulky debris materials from start to finish. Other machines on the market could end up blocked up with metal bars or blocks of concrete creating a peak pressure exhausting the machine. The TANA Control System intelligently stops the operation and peak pressure, allowing the object to easily be removed through the opening side door.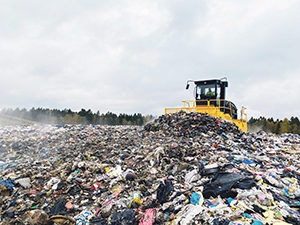 For packaging materials such as hard and soft plastics, cardboard, paper, wires, paper rolls, containers, aluminium, gypsum or any reject from production line of a manufacturing process can all be shredded using the TANA Shark. TANA Shredders are well utilised in the treatment of this variety of material. Many complications arise from commercial and industrial waste depending on the recollection process of the materials. TANA shredders are slow speed and use a single shaft with high torque that optimises the machines functions. Because of TANA shredders unique features downtime is minimal as processes are in place to ensure the treatment process runs smoothly and efficiently without breakingdown or requiring a 'cool off' period.
Get more out of your investment as the TANA Shark's low-rev and high torque process makes light work for difficult materials such as mattresses, cables and wires, and ragger wires. Some of these materials are loathed by landfill operators as especially mattresses contain a mixture of complex materials such as textiles, latex, foam, springs and wood that are difficult to recycle. Furthermore, they are costly to dispose of unless processed properly. Through a magnetic separation, the TANA Shark creates shred that takes up less airspace and is easy to compact in a landfill or process further. The magnetic separation of metals can generate additional income, as it can be sold on for recycling purposes. As cables and wires come in a plethora of shapes, sizes and contents, they can be classed as almost impossible to separate. However, the high torque capabilities of the TANA Shark enable this process to be possible. One advantage of the TANA shredders is the ease of removing non crushable items or clearing a jam though the opening side wall in the occurrence of a jam. Ragger wire is often landfilled because no method or machinery on the market can separate the material cost efficiently. Specifically the TANA 440 series shredder is a proven solution for shredding of ragger wire. The adjustability and high torque of TANA shredders allow for this to be possible.
The TANA Control System has 12 pre-programmed operating programs for different types of materials and purposes of shredding. TANA Shark shredders takes care of the whole shredding process resulting in making 20% more profit. Overall it is capable to produce a large range of homogenous particle sizes, its unique and versatile process allows for a productive recycling of the widest range of materials and shreds the toughest materials such as shingles and big tyres.
Other machines available from TANA Recycling Machinery UK are TANA Wind Sifter for better separation by density – separating light from heavy materials with a high-grade accuracy and low operating costs. The TANA Landfill Compactor allows the user to compact 10% more material and is more accurate and uses less fuel than a four-wheeler. It's the best in compaction comparison and offers the lowest gravity point on the market. Both machines come as a full line up and focus on maximising uptime and efficiency, keeping machines up and running without disruption.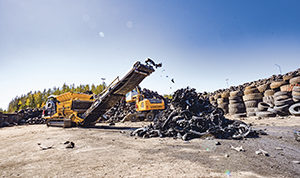 In support of the TANA shredders range, TANA ProTrack® offers the possibility to significantly improve the engagement of personnel to a company and their work. TANA ProTrack® allows users to track their operations in real time enabling them to see the numbers and understand the waypoints that in turn will increase work efficiency. The state-of-the-art management system is constantly being developed to make business practices better. TANA ProTrack® allows a business to fine-tune its processes in order to get the most out of the TANA machine. Tracking process information in real time enables viewing of the fuel consumption, fault codes, uptime information, capacity and other vital operational statistics. The TANA ProTrack® is a machine that merges into a coherent system to ultimately increase the reliability of the working site, engage personnel and improve overall business processes. Taking data and analysis from the TANA machine, TANA ProTrack® then presents concrete evidence of how much profit can be gained, the amount of expense a company has laid out and how the business could be further enhanced.
Customers of TANA Recycling Machinery UK operate in a variety of areas amongst the waste management industry. The team at TANA Recycling Machinery UK's job is to help customers do their jobs as easily, cost-effectively and eco-friendly as possible. Their efforts and proficiency in achieving that goal has been recognised recently as they received the honour of accepting the Sales Team of the Year Award within the business. "This means a lot as it strongly reflects the time and effort we take with every customer. A high percentage of our sales are from recurring customers which speaks volumes for our brand, team and machinery," stated Brooklyn.
Looking ahead, TANA Recycling Machinery UK has put short and long-term goals in place in order to keep reaching set targets. "Short term, we will keep doing what we're doing. Keeping our customers happy and our machines ever developing and improving. In the long-term, we have several projects in the pipeline looking to arrive in 2022 to which we will announce on all social media platforms when they become available. Of course we will always continue adapting to the ever-changing industry and with the team and network of support we have around the world, I can see bright things for our future," mentioned Brooklyn.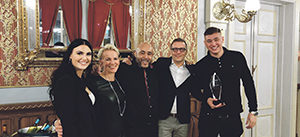 In closing, we asked Brooklyn how TANA Recycling Machinery UK felt receiving the award. "Honoured, I know you have been keeping an eye on what we are doing, and we are delighted to receive the recognition. I also want to say a big thanks to our team over in Finland for continuously finding a way to revolutionise the waste and recycling industry and our dealers around the world forever expanding the TANA name. And lastly, for our amazing team here in the UK, for the hard work and dedication they show every day because without them this award wouldn't be possible."
For more information, please see below:
T 01302 872431
enquiries@tanauk.com
www.tanauk.com