World Environment Day, Norway (June 5th, 2020) – Fastest growing telematics company launches their reforestation project in partnership with NGO WeForest to raise awareness around the need for sustainable leadership in business.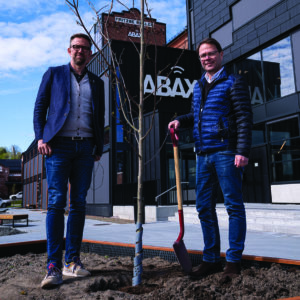 ABAX AS is a leading telematics SaaS provider that gives businesses with corporate vehicles the ability to monitor emission-related driving incidents and see exactly what costs are associated with unfavorable driving behaviour.
Every subscription purchased contributes directly to the reforestation project currently underway in Malawi to restore the Mount Mulanje Forest. In the first year with WeForest, ABAX has committed €100 000 to support 80 hectares of assisted natural regeneration, this is approximately 96 football fields. So far, this project has restored 320 000 trees across 256 hectares of forest.
For every new ABAX subscription bought, ABAX plants one tree on behalf of that customer. So while business owners must use their vehicles to operate and be profitable, they have a carbon reducing Mulanje Cedar tree working for them. This campaign aims to promote that even SME's can consider their impact and find ways to be more sustainable.
Why reforestation?
'We've chosen to plant trees because trees are one of the best technologies we have to remove carbon dioxide from the atmosphere. At ABAX we are all about the tech that we can trust into the future.' says Chief Performance Officer Bruce Atle Karlsen. The forecasts of global temperature-rise have driven ABAX to take an active & engaged position in the industry and planting trees and restoring forests will contribute to the reduction of excess carbon emissions from the atmosphere.
Reforestation projects are particularly interesting because they impact both the natural environment as well as the communities in which these projects exist. The communities are provided a new stream of sustainable income, healthier soil in which to cultivate food while the regenerated forests sequester carbon from the atmosphere. WeForest can share countless inspiring stories of families becoming self-sustaining for the first time through these reforestation projects, having learnt transferable skills they can use for life.
But it's not only about planting trees
In January ABAX adopted a planet-driven measurement, aiming to become carbon neutral in 2022. Dedicated personal have begun various initiatives in order to reduce the companies emissions such as switching to an all-electric corporate fleet and sustainable product packaging. 'ABAX is assessing the product life cycle and upstream activities, knowing that changes will need to be made but committed to investing in that', says Taryn Lynne Sumpton, Sustainability Consultant at ABAX.
ABAX's technology software also gives its customers the management tools to monitor their emissions and behaviour that can affect their carbon emitting levels. These tools are aimed at helping to future-proof businesses, preparing them from the inevitable environmental reporting to come.
A more collaborative style of procurement has meant that while some suppliers do not yet meet the standards set, there is some room to work together within the value chain to improve not only how that supplier services ABAX but also all its other customers, driving sustainability forward. Soon ABAX will be inviting other local businesses to join workshops along with the local municipality to share knowledge and collaborate in the city where their headquarters is situated. Seeing the relationship we have with nature and how at risk we are because of the unbalance approach taken has only highlighted the pressing need for all business to take a responsible approach to their supply chains and consider their products end-of-life stage.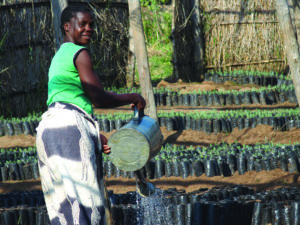 WeForest
WeForest is an international, non-profit organization that works with corporates and scientific partners to develop scalable and lasting solutions that restore degraded forest landscapes. Reforestation projects take into consideration the local communities and develop sustainable livelihood alternatives to ensure both nature and community can live in harmony.
3.4 million hectares of forest covered a third of the country of Malawi but 65% of these forests have now been cleared due to the over-reliance on the natural environment for firewoord, construction wood and charcoal. This is only forecasted to continue due to the growing population. WeForest is working with Malawi government Forestry Department, The Mulajne Mountain Conservation Trust as well as 10 local community nurseries all in a combined effort to conserve the forest biodiversity, restore 2 types of forest, create employment and alternative sources of income for the local communities and stop the current deforestation.
ABAX partnership with WeForest here: https://www.weforest.org/partner/abax
Read more about ABAX on the road to become carbon neutral – https://www.abax.com/uk/CSR