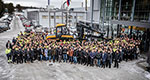 The 15,000th PONSSE forest machine was completed at Ponsse's factory in Vieremä and delivered to Lespromindustria from Russia. The machine delivery also represented a step towards Ponsse's 50th anniversary to be celebrated next year. Fifty years of logging will be celebrated by a global roadshow together with Ponsse's customers and other forest industry professionals.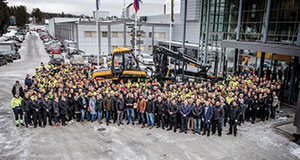 The PONSSE Buffalo delivered will operate in Tomsk as a partner for a new PONSSE Ergo. Lespromindustria is a significant seller of sawn goods in its region, and it has 12 PONSSE forest machines. Next year, Ponsse will open a new service centre in Tomsk, and also build a new service centre in Joensuu.
The 15,000th PONSSE was manufactured at the new factory opened a year ago. It was the most significant investment in the company's history at nearly EUR 40 million.
The Vieremä factory has grown to cover an area of nearly four hectares. It is still based around a 300 square metre hall from where it all started 50 years ago. The oldest still-operational forest machine factory in Finland forms the core of Ponsse's production.
The 50th anniversary roadshow will travel round the world, stopping at different logging sites and at more than 100 different events in 28 countries. The European roadshow will start from Finland on 23 January and end at the FinnMETKO 2020 exhibition.
We will also visit various logging sites in South and North America, Russia, Asia and Australia. During the roadshow, we will collect feedback from our customers and demonstrate our new products and services.
For further information please contact:
Juha Vidgrén, Chairman of the Board, +358 40 518 6286
Jarmo Vidgrén, Sales and Marketing Director, +358 40 519 1486
Juho Nummela, President and CEO, +358 40 049 5690