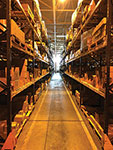 As the UK becomes the first major world economy to legislate to reduce greenhouse gas emissions to net zero by 2050, a Northamptonshire based transit packaging specialist is promising to help businesses do their bit to help the environment.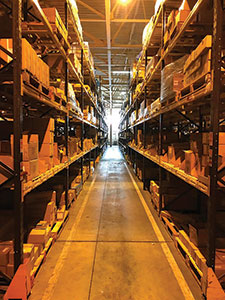 PALLITE®'s lightweight, paperbased packaging products – including pallets, pallet boxes, layer pads and warehouse storage solutions – are made from sustainably-sourced materials and 100% recyclable after use, making them a more eco-friendly choice than many of their competitors.
Proven in independent tests to contribute less to climate change and the disappearance of the world's rainforests than wooden pallets, they also result in reduced CO2 emissions in use, and reduced transport costs for businesses that choose them.
Sustainable by design
PALLITE®'s products are designed to have a low impact on the environment. Manufactured from recycled paper drawn from carefully and responsibly managed sources, they are accredited by the FSC, which operates the highest standards in ensuring protection for the world's forests and endangered species. They are also 100% recyclable after use.
A 2016 study found 42.5 million new wooden pallets were manufactured in the UK that year, using more than 1.2 million cubic metres or more than 680,000 tonnes of virgin timber. If every business had instead switched to PALLITE® pallets, the company claims more than 600,000 trees would have been saved – representing an area 17 times the size of the city of London.
But the environmental benefits of PALLITE® products don't end there. The lightweight composition of PALLITE® pallets also results in lower CO2 emissions in use, as well as potential cost savings for businesses.
Independent tests show substituting 26 standard wooden pallets holding 500kg for the same number of PALLITE® pallets and driving from Wellingborough to Glasgow would result in greenhouse gas emissions savings the equivalent of charging 29,200 smartphones. Added to this, a 0.612 tonne weight saving would save around £120 in fuel costs. Replacing 11 standard wooden pallets with PALLITE® pallets on a flight from Glasgow to New York would offset the annual carbon impact of an average car commute in the UK.
A business dedicated to the environment
But, for PALLITE®, the need to do its bit to help save the planet goes far beyond just manufacturing environmentally-friendly products. Matthew explains, it's about practising what they preach. "As a business we aren't content with just selling a product that reduces environmental impact for our customers. We also want to set a good example ourselves as a business. We want sustainability to be ingrained in everything we do."
PALLITE® is ISO14001:2015 certified in environmental management, demonstrating a commitment from board-level down to building sustainability into its entire business model. This year, it hopes to achieve membership of the highly-regarded Ellen MacArthur Foundation Circular Economy 100 Network in recognition of its efforts.
The time is now
If businesses are in any doubt about the way things are heading, they should draw inspiration from the way in which Government policy and consumer demand are aligning in support of more responsible business practices.
If businesses need any more evidence, Matthew directs them to the example of IKEA, which in 2012 directed more than 1,000 global suppliers from 51 countries to use cardboard pallets when shipping to their distribution centres. Since then, the company has reported 75,000 fewer metric tons of CO2e produced per year, and an annual saving of more than $200 million on shipping costs alone.
T 01933 283920
enquiries@pallite.co.uk