What do you do with an elephant in the room? When most of us face this question, we are only talking about a metaphorical elephant. For engineers at Mason Industries however, it was the prospect of a live elephant in a TV studio that helped inspire the invention of the jack-up floating floor. Here, Adam Fox, director of vibration isolation specialist Mason UK, retells the unique story of this efficient floating floor system.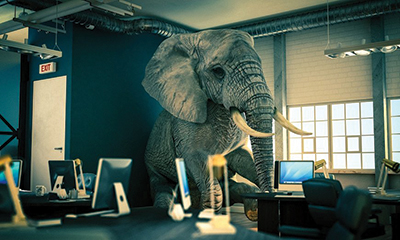 The largest male elephants can weigh up to 15,000 lbs so having an actual, live elephant in the room can create a significant engineering problem, if you need to isolate the impact or vibration that such a large animal might transmit through the building.
In the early 1960s, engineers set out to solve precisely this kind of problem. Columbia Broadcasting System, better known as CBS, one of the big three commercial television broadcasters in the United States, was looking to install a new studio that was capable of handling a room full of live elephants. The studio needed to be versatile and installed quickly, so the acoustic consultants working on the project contacted Norm Mason.
Norm, who dedicated his life to acoustic engineering, developed the concept of a jack-up floating floor. This was Mason's original idea and, although never patented, the design formed the industry's template for this efficient and swift construction method. Attempts at copying the system by others in the industry are commonplace.
The successful renovation of the studios was completed in six weeks in 1962. This was the genesis of the jack-up floating floor. Perhaps not surprisingly, CBS has remained a loyal customer of Mason Industries ever since.
T 01252 716610
info@masonuk.co.uk
www.mason-uk.co.uk