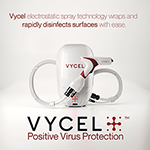 Vycel is a UK-based company that designs and manufactures electrostatic sprayers through its medical grade manufacturing partner. It is Vycel's mission to provide the global community with peace of mind by alleviating the physical threats of viruses.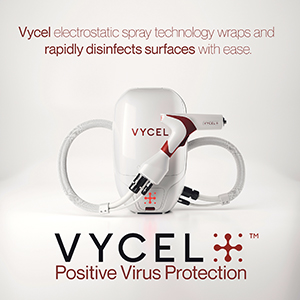 Vycel electrostatic technology wraps and rapidly disinfects surfaces with ease. Harnessing the latest technology and knowledge, Vycel provides solutions to the physical threats posed by viruses and other harmful microbes.
Vycel work to ensure every surface is disinfected, leaving viruses with nowhere to hide. Each litre of disinfectant that passes through Vycel's electrostatic sprayer, delivers billions of particles of disinfectant every 10 minutes, covering up to 15,000ft2 from one single tank. These positively charged particles of disinfectant solution envelop surfaces leading to maximum surface coverage resulting in more surfaces being disinfected. All while using less chemical solution than traditional disinfecting methods – saving you time and money.
The Vycel 4 is specifically designed to deliver the optimum spray coverage to weight ratio for electrostatic sprayers. This stylish backpack electrostatic sprayer is suitable for both industrial scale disinfecting as well as for smaller clinical, leisure, corporate and even home environments.