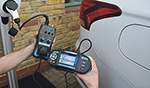 Metrel is one of very few companies that develops and manufactures its products at a single location in Slovenia, starting with design and ending with final assembly, quality control and calibration. From its UK office in Epsom, Surrey, Metrel UK supplies its leading range of measuring and testing equipment to customers across the country, as well as providing repair, adjustment and calibration services.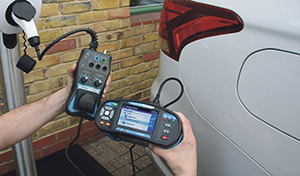 Metrel's extensive range of instruments offer innovative solutions for testing and measuring, ensuring its equipment is easy to use, intuitive and future proof. Many of Metrel's products are software based and use touchscreen technology, addressing the real needs and challenges of end users to create a range of products that will enhance the user experience.
Without a doubt, Metrel is committed to solving the issues workers face every day. "Right now lots of electricians own, and use daily, testers that are capable of storing their test results but find the feature too complicated and long winded to use, because they need to make notes about which circuit and board each relates to which location in the tester's memory," said Brendan Beaver, the UK Manager of Metrel. "They prefer to fill a copy of a certificate by hand and then make a fair copy either in their best handwriting, or by typing it up in a computerised certificate when they get home. What a waste of their time!"
Metrel understands that engineers need to be able to do their testing and save the results and notes on their tester without needing pencil and paper, so that it is ready to send to the depot or to quickly download. This kind of functionality is not available when a conventional LCD screen is the only thing available, as found on an ordinary multi-function tester.

With the introduction of dot-matrix displays from Metrel, an increasing number of users of multi-function testers like MI3152 and MI3155 are realising the advantages of being able to make notes using the touchscreen's full keyboard, eliminating the need for pencil and paper. What's more, the on-board fuse table and connection help screens allied with the pass and fail indicators to give the operator confidence to pass the results to storage.
Metrel's new memory management system is unique. Also benefiting from the dot-matrix touchscreens, it allows the operator to visualise the installation, highlighting components with a coloured icon, which makes it easier to post the results to the correct circuit without writing anything down. This simplicity is continued when the results are downloaded quickly and easily into an 18th Edition certificate via the USB port.
Metrel also offers a dedicated repair service and expert technical support, working with distributors and partners to offer solutions to any problems, to ensure its products are being used correctly and to their full potential.
T 01924 245000
info@metrel.co.uk
www.metrel.co.uk