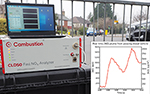 Cambustion recently developed an ultra-fast response ambient air quality analyzer for measurement of NO and NO2 with a 10-90% rise time of 100 milliseconds and sensitivity down to a few parts-per-billion. This enables the measurement of roadside pollution caused by a single passing vehicle, real time plume dispersion studies, vehicle cabin air vent concentrations and raw exhaust gas emissions measurements.
Developed from Cambustion's existing range of exhaust gas analyzers, this super-sensitive yet ultrafast version for air quality work has been developed in response to many researchers requesting faster real time data with a strong emphasis on identifying "gross emitters" entering urban environments and clean air zones.
The equipment is also useful for rapid "spot-checking" of idling vehicles or to assess the effectiveness of natural or man-made barriers such as hedges or bus shelters to shield humans from the sometimes alarmingly high instantaneous concentrations of NOx which can be inhaled on the sidewalk. The equipment is available for on-board mobile applications including "chase studies" with heated/unheated sample line options of various lengths.
More details including specimen applications available at: www.cambustion.com/industries/air-quality
View videos: