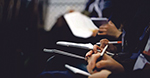 Estimating the time, duration and cost of the work order activity's is something maintenance planners need to do every day, regardless of the industry that they are in.
The challenge is getting this right, and the cost of getting it wrong can be extremely high. Teeside-based company IAMTech produce software to manage shutdowns, turnarounds, outages and routine maintenance activities. The software is called iPlan, and amongst other things, it allows standardisation to enable consistent estimation, reducing costs and maximising efficiency.
IAMTech (Industrial Asset Management Limited) run training courses for companies.
In one of these courses, the company took a customer's entire Turnaround community through the three stages of the iPlan software graduation program.
19 trainees attended, every one of them an experienced planners or Turnaround manager with decades of experience.
Day 2 of the course looked at why the benefits of using Norms for estimation.
Questions were asked in the breakout rooms using a scientific method, that replicated an experiment conducted by Nobel Peace Prize winning social scientist, Daniel Kahneman. The group was split into two teams, and each asked each a baseline question.
Group 1 was asked: Was Gandhi older or younger than 35 when he died? Guess his age. Group two were asked: Was Gandhi older or younger than 114 when he died? Guess his age.
Group 1 guessed on average 50 years
Group 2 guessed on average 81 years
The actual answer is 78.
The vast difference in the estimated age between the two teams was astonishing. In fact, looking at the graph, there is not even an overlap in individual guesses, and there were nearly 30 years between the mean average guesses.
The trainers asked the teams why they thought there was such a discrepancy. The group correctly answered that it was due to the two different anchor questions – was Gandhi older or younger than 35 OR 114 when he died?
Seeing the results, participants concluded that they had gravitated towards the number in the baseline question.
The trainer explained that our brains are very lazy and take shortcuts whenever possible. Instead of trying to work out an answer, our brains will try to match up the information with another piece of information that we know.
This phenomenon is called Anchoring and is a cognitive bias where an individual relies too much on an initial piece of information offered (called the "anchor") to base future decisions and judgments on.
In this case, few of the attendees were likely to have much knowledge about Gandhi, so relied on the one piece of information they were given, the ages. This heavily anchored the guesstimate, and whilst the age of 114 was absurd, it did significantly skew the result.
This cognitive bias happens in Turnaround situations, where we are influenced by useful and perhaps not so useful information, even with the benefit of experience.
Next, the groups were asked a more familiar question: to estimate the time it would take to create and dismantle a simple scaffold structure with the brief in the caption on the right.
Again, the estimates ranged wildly, as seen in the graph below.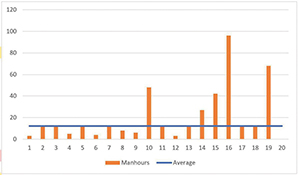 The trainers concluded that we must be more data driven when it comes to our estimation. Software like iPlan removes anchoring & triggering the brains lazy response – which in turn brings standardisation and consistent estimation. It also allows less experienced planners to be precise, bringing huge cost savings to an organisation.
It does this by are storing historical estimates and the actual activity duration, even after project closure, which can be reviewed and used for new work orders.
Crucially, standard estimates can be saved as norms, meaning all staff can benefit from shared knowledge and practices.
The myriad of benefits includes accurate forecasting, the ability to compare work orders and STO's, and the confidence to reuse historical work orders, which is how you can save planning effort.
Discover how iPlan can help you at: www.iamtech.com
IAMTech sponsors Middlesbrough baby hospice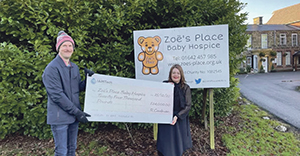 This year, Ross Coulman, MD of IAMTech has pledged to sponsor a Middlesbrough baby hospice with a whopping £24,000 donation to Zoë's Place – the UK's only baby-specific hospice. Ross is encouraging other companies to do the same and support charities more in a time when the need for their services are higher than ever, yet donations have plummeted.
The donation from IAMTech will cover the salary of an incoming nurse for an entire year.
Ross Coulman, Managing Director of IAMTech, said, "It doesn't sit well with me having wealth when so many other people are suffering, and I wish more companies in our position would take the same approach as I have.
"Charities are reporting much higher demand for their services than before the COVID19 crisis hit, whilst over half of charities have reported a large drop in donations.
"I feel it is our duty to give back and support the crucial work of charities like Zoë's Place and others. This is not a token sum. Our gift represents a significant amount of our profits, showing our commitment as a business to supporting those in need."
If you would like to find out more, or support Zoë's Place, please visit: https://donate.zoes-place.org.uk/