CMC has been recognised for the development of AIRMATICS™, an innovative cloud-based air compressor monitoring, performance and control solution that provides real time data, analytics and insights at the push of a button.
Graham Coats, Sales Director said: "We look forward to building on this recognition and the interest we've received in AIRMATICS™ by developing the product and making it even more accessible to the widest spectrum of manufacturers."
AIRMATICS™ is capable of managing an infinite number of locally interconnected fixed speed, variable speed or variable output air compressors by responding to feedback in real-time and automatically adjusting settings and performance levels accordingly.
"It has been met with huge interest by manufacturers across multiple sectors that are looking to improve the performance of their compressors and reduce their energy bills. In fact, I'd go as far as to say that AIRMATICS™ has the potential to revolutionise the manufacturing industry and we're incredibly excited to be the first company to have created a truly brand agnostic solution that can be used to support any compressor of any age. Simply put, AIRMATICS™ enables even the oldest compressors to become smart compressors."
Indeed, the last 12 months have been an exciting time for CMC, with sales across the company's wider product portfolio remaining high. What's more, interest levels in AIRMATICS™ have been overwhelming. "We expect to convert a high number of leads over the next quarter. However, while IoT-based products and solutions are ubiquitous in other B2B sectors and, of course, the consumer marketplace, there is still some way to go before IoT in the context of air compressors becomes the norm.
"We've launched AIRMATICS™ at a time when the industry is still at a crossroads between old thinking and new thinking. Once new thinking is widely adopted and the potential of IoT in a manufacturing setting is fully embraced, then I expect AIRMATICS™ to become CMC's flagship product in a very short period of time."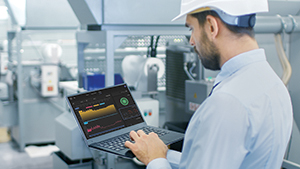 Certainly, against the backdrop of escalating energy prices, it is pertinent that AIRMATICS™ is Industry 4.0 ready. "This means that via automation, interconnectivity and data exchange, it adds value by providing users with real-time data about the health and performance of all air compressors – from one standalone compressor to entire networks of compressors.
Furthermore, when the AIRMATICS™ COMMAND & CONTROL platform is utilised, air compressor performance can be remotely adjusted to increase efficiency and reduce energy usage – and the associated carbon footprint. Through CMC's in-house R&D team, we've established that AIRMATICS™ can reduce manufacturers' compressor related energy costs by up to 30%."
One of the key advantages of AIRMATICS™ is its ease of use and refreshing simplicity. "We're applying IoT technology to the world of air compressors in a way that's very simple to use and, through a visual interface, easy to understand, which means that data that may have been hard to comprehend – or would at least require significant manual number crunching to make sense of it – can now be summarised and communicated in seconds. This provides full visibility of air compressor performance in a way that just hasn't been available – until now.
"With AIRMATICS™, we not only want to simplify the process of compressed air performance monitoring and management, we also want to provide customers, be they factory owners, facilities managers or distributors, with an Industry 4.0 solution that enables 360° visibility of an air compressor network at any given time and from anywhere.
"AIRMATICS™ takes air compressor performance monitoring and management into the 21st century by providing users with real time intelligence on their entire compressor assets' performance and health, all while creating efficiencies and reducing air compressor wear and tear."
If you would like to find out more information, head to the website or get in touch using the contact details below.
T +32 (0)552 37090
support@airmatics.eu
www.airmatics.eu