McAree Engineering has added a state of the art, 7,000ft2, Dry Powder Paint facility to complement its existing Wet Spray capability.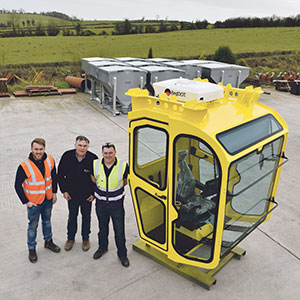 Designed specifically for large fabrications, the 14m long x 7m wide x 6m high Blast Booth is said to ensure ideal surface preparation using chilled iron. Complete with a Gema Sprayboot (7.2m long x 4m wide x 3.3m high) and a similar sized Box Oven, this facility allows McAree Engineering to now paint and fully finish a range of assemblies.
Vincent McAree, Operations Director, explains, "We always have had a very strong design capability with our in-house design team working on a range of different projects. Now with this modern paint facility we are in a position to paint and fully finish both small and large fabrications."
McAree Engineering has recently been contracted to design and fabricate a fully finished Cab unit for one of its clients which allowed the company to demonstrate the facility's full capabilities. Designed using 3D modelling software, McAree's worked with the client to identify key design characteristics that needed to be integrated into the design.
Fitted with panoramic windows, air conditioning, seat and monitors, the end result matches the customer's requirements exactly.
T 0118 467 6660
sales@mcaree-eng.com
www.mcaree-eng.com