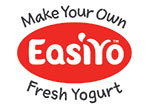 EasiYo, the world's No.1 make-at-home yogurt brand, is incredibly easy and incredibly satisfying to make. EasiYo requires no moving parts or electronics and the maker and jar are easy to clean.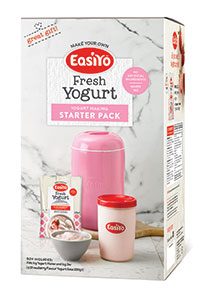 To make fresh yogurt that keeps for up to two weeks in the fridge consumers simply mix the contents of an EasiYo sachet with room-temperature drinking water in the jar; pour boiling water into the yogurt-maker; immerse the jar in the water and leave for eight hours (or overnight) before storing in the refrigerator. EasiYo is made in the UK with quality milk from Irish dairy farmers and is free from artificial ingredients, thickeners, stabilisers, gums and gluten, and it is suitable for vegetarians.
Since EasiYo is mixed fresh at home and its live cultures are activated only when made, it results in yogurt with the freshest cultures possible.
In addition, EasiYo helps consumers to dispense with the need for single-use plastic yogurt pots. One sachet of EasiYo makes 1kg of fresh yogurt, saving 8 x 125g single-use plastic pots from entering the supply chain1.
11kg of fresh EasiYo yogurt (made from a sachet containing 5.6g of plastic) can replace 8x125g filled, single-use plastic pots from entering the supply chain
For more information please call +44 (0)1332 850468 or visit www.easiyo.com