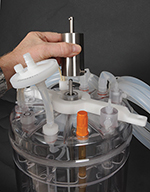 Electrolab Biotech design and manufacture bench-top scale bioreactor systems for different research and manufacturing sectors.
As well as traditional stainless-steel and borosilicate glass bioreactors, we offer them in a range of alternative materials for specialist applications – including PEEK engineering plastic, all-glass and alternative metals and alloys.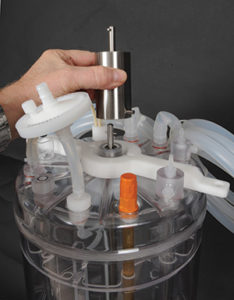 All our FerMac range of bioreactors can be interchanged with single-use bioreactors (SUBs), whilst retaining the original controller, gas flow and motor assemblies. This means you have ultimate flexibility and minimal costs. We work closely with CerCell of Denmark to offer a comprehensive range of single-use rigid bioreactors (including for continuous culture) from 500ml up to 30L volume.
For research work our standard autoclavable bioreactors are most cost-effective, but these can easily be swapped out for CerCell's scalable disposable units for specific projects as needed.
CerCell offers both standard bioreactors and units fully customisable to your requirements. This includes choice of fittings, sensors, filters and tubing types (including lengths and connections). The novel VisiWell also means that you can re-use your Hamilton VisiFerm optical dO sensors in a single-use environment.
Together with CerCell, Electrolab Biotech offers your laboratory reliable and cost-effective disposable small-scale bioreactor systems.