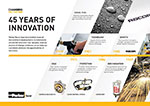 Thomas Auto Injection Centre is changing filtration with Parker Racor.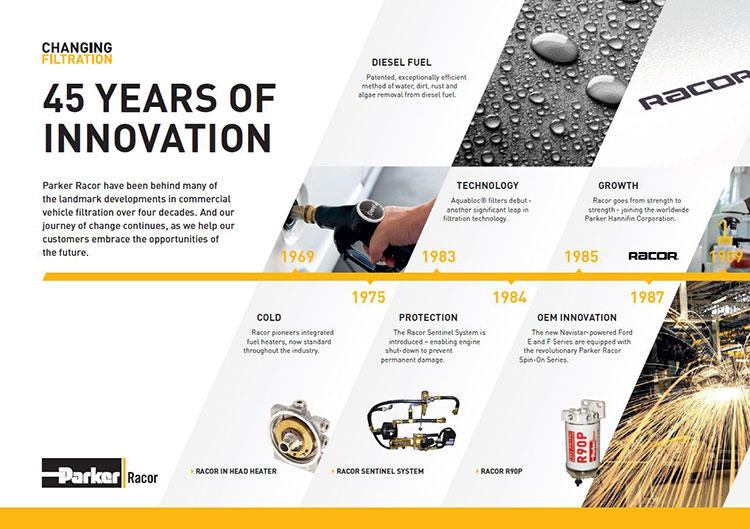 Diesel fuel system specialist, Thomas Autos, is proud to be leading the Changing Filtration campaign with Parker Racor, bringing tomorrow's filtration technology to the aftermarket today.
To succeed in today's fast-moving and ultra-competitive commercial environment, manufacturers and operators must constantly move forward. For over 45 years, Parker Racor has been the driving force of change in filtration, setting new standards, developing better solutions and creating new possibilities for our customers.
Dr Farooq, Senior Media Scientist at Racor Europe, explained that tightening emission regulations and the strong drive towards greener technologies has resulted in changing the chemistry of diesel fuel blends over the last decade or so. He said, "Today's diesel fuels are predominantly ULSD and have a number of additives with increasing percentage of bio-diesels. This change in chemistry of diesel fuels has an adverse effect on the performance of the traditional fuel filters, particularly on their ability to separate emulsified water; moreover, in todays sophisticated high pressure common rail (HPCR) injection systems where the clearances for fuel injection are reduced to microscale regions (5 microns) with operating pressures in excess of 2,500 bars, fuel filtration systems need to be highly efficient in removing sub 4 micron particles, too."
Improving efficiency, reducing cost
Developed through industry-leading technology, a commitment to innovation, and the resources of a global business, Racor's advanced filtration is engineered to provide the cleanest and most efficient solution in the marketplace – tackling engine emissions targets, offering maximum operational time, and ensuring compliance with environmental standards now, and into the future. Together it means the ideal combination of outstanding engine performance and efficiency with the lowest total cost of ownership.
OE manufacturing quality
All Racor filtration is manufactured in-house, at its state-of-the-art production facilities in Europe and North America. Specification, process and quality assurance is in line with the highest international standards. Every Parker Racor filtration product delivered to the independent aftermarket is made with the same materials, design specification and engineering excellence as the original equipment.
Complete solutions
Parker Racor offers complete system solutions for fuel, air, oil and CCV. From the biggest to the smallest vehicles, their range covers many of the most popular makes and models on and off highway. It means our customers can enjoy a total package of technically advanced products, full system-compatibility, and seamless operation.
OE partners, technology leaders
With over 100 active patents, 45 years of media development, and a range of proprietary technologies, Parker Racor is 100% focused on developing filtration that enables its customers to meet the challenges of tomorrow. Working closely with many of the most prestigious names in vehicle and equipment manufacturing, it shares technology, engineering expertise and resources to create cutting-edge and vehicle-specific equipment and systems. Proud to be trusted by the world's best, its extensive OE portfolio includes a core range of filtration products starting with spin-on fuel filter assemblies and advancing to complex fuel filtration modules with integrated OE specified features.
R&D and testing
Racor's ongoing investment in research and development means it is continually able to offer customers better solutions – tested and proven to deliver tangible benefits. Innovation is centred at its high tech development centre, with an advanced Engine Test Cell, capable of testing 500KW diesel engines. The expert engineering team is able to simulate 'real working life' conditions – taking into account vehicle loads, performance requirements and environmental factors. Every product is fully tested across the range of performance criteria, in order to ensure the optimum filter solution for each application.
Steven Wilson, Test & Development Manager, commented, "Parker Racor is continually investing in its engineering facilities and it is a centre of excellence for engine filtration products. Covering all engineering disciplines, we are capable of developing innovative and patented filtration systems for today's, and the next generation of, engines.
"An idea or concept could take up to 2 years before it is launched into full product. Whether testing prototypes from soft tooling or validating production tooling, this is all conducted on site. A programme for a new system may require 20 to 30 types of tests. We can simulate temperatures as cold as -40°C, stop/start pressure pulsation, analysis concentrations of biodiesel in fuels and understand how different water disruption curves effect water separation by measuring water droplet sizes even at 1 micron. This is a fraction of our capabilities but most of our customers are amazed by our ability to design and produce test rigs to simulate their actual applications.
"This investment in testing and developing enables Racor's products to be robust, reliable and guarantee that the highest quality of filtration is maintained throughout the life of the product."
The complete change
Whatever the engine, effective filtration is vital for reliable, smooth running operation. Unique among global manufacturers, Parker Racor provides the complete package of solutions across fuel, air, oil and CCV. It means you can benefit from a completely integrated system of filters and water separators. You can replace your entire system with parts designed and engineered to work in perfect harmony – ensuring consistent service intervals, improved overall performance and efficiency, and reduced lifetime costs.
Making the change
Parker Racor replacement filter elements, spare parts and complete systems are available for a wide range of applications in the independent aftermarket. Sharing identical specification, technology and manufacturing quality with the OEM product, it's your promise of increased efficiency, improved performance and lower operating costs.
For more information about changing your filtration with Parker Racor, call 01233 642816.