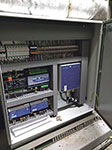 Gas engine support expert Gen-C has assisted AD operator Green Circle Renewables to address engine downtime at their 1 MW on-farm anaerobic digestion (AD) plant in Northern Ireland.
By upgrading their engines and providing open access to the engines' control panels, Gen-C has resolved a longstanding frustration for Green Circle's Jason Rolston, who for eight years has lost valuable heat, power and revenue while waiting more than 24 hours each time for qualified service engineers to restart regularly failing engines.
Jason relies on the heat and power produced by the on-site AD plant to run his farm and feed mill, converting biogas generated through the anaerobic digestion of slurry, dairy waste and energy crops. Each time his engines went down, he was forced to import electricity at a cost.
Although he had access to remote monitoring for one of the plant's three gas engines (an MWM model), for the two eight-year-old Cogenco/MAN engines, a Cogenco engineer had to be called and dispatched every time the engines went down. Unfortunately, this was becoming a regular occurrence due to the composition of the biogas.
Jason explains, "Biogas is more variable than natural gas, due to the varied feedstocks supplied to the digester. When the methane levels increase due to a slight change in feedstock, the engines can't handle it and the system shuts down. As the system had a closed control panel, I couldn't access it myself to restart it, and neither could my service provider."
Seeking an open access control panel, Gen-C came highly recommended. Initially, the company, which has plenty of AD plant experience, introduced Jason to a new Motortech control panel featuring ComAp technology. This enabled Jason to dial in remotely at any time via phone or tablet to see instantly how the engine was performing, receive an alert whenever there was a fault, diagnose the fault, rectify it and even remotely restart the engine.
Gen-C's Managing Director, James Thompson, also suggested upgrading the two eight-year-old engines. Their original ignition systems and fuel mixers were designed for natural gas and were therefore not compatible with biogas applications. Gen-C provided a solution that would improve performance in the ignition, the fuel mixer, the throttle and the detonation control.
Gen-C also supplied Jason with higher quality HT leads and spark plugs. "We didn't just give Jason control over his own engine – the new components transformed an old, tired engine into a modern and efficient piece of equipment," notes James.
Because the overhauled engines are now fitted with components suitable for biogas, they cut out far less than before – Jason estimates 90% less frequently. Thanks to the open access control panels, he can monitor the engines from anywhere and is instantly aware if an engine stalls.
As a result of better machine availability and reliability, increased electrical output & increased income, a return on investment was produced in just a few months.
Acknowledging the multiple benefits of upgrading both the control panel and engine, Gen C's James says, "Engine downtime is a major source of frustration for anyone operating an AD plant. But it's doubly frustrating when the operator knows he could easily restart the engine himself, if only he had the ability to access it. Two of Jason's three engines were not even accessible to the service provider that had supplied them, let alone Jason himself, so we knew that unlocking them was essential."
The new Gen-C components have made the engines easier to start, as well as resulting in lower emissions, more efficient fuel use and better engine protection, thereby extending their service life. In addition to on-site fault finding, the remote dial-in facility also makes it easier for the engines to be supported by external third parties, if necessary.
T 01709 718000
www.gen-c.co.uk