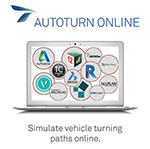 Vehicle swept path analysis is an essential evaluation known in the architectural, civil engineering, and construction industry. It allows designers to simulate and visualise any scenarios involving vehicle access and circulation; thus, minimizing operational inefficiencies or costly reconstruction of the geometric or infrastructure design.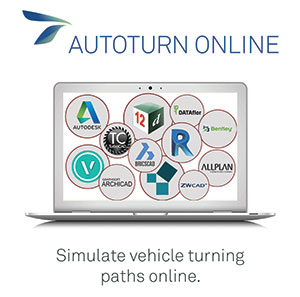 In the past vehicle swept path analysis always relied on a CAD program to function, but with the release of the cloud based solutions AutoTURN Online, Transoft Solutions brings swept path analysis to all designers.
All designers have to do is export their work in the universal '.dxf' file format and import it into AutoTURN Online to begin. Alternatively, they can even do vehicle simulations directly on Google Maps or import an aerial image for analysis. Once loaded, designers can perform a full range of vehicle swept path analysis activities, simulating reversing and forward turning maneuvers for any scenarios like roundabout navigation, trailer docking and parking in tight spaces.
You can register and test AutoTURN Online for free. In case it is the right solution for you, you can simply subscribe to the vehicle library bundle appropriate for your project on an annual or monthly basis (non-recurring).
T +44 (0)161 240 6128
www.autoturnonline.com
www.transoftsolutions.com