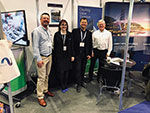 M2M Intelligence enjoyed a highly successful 3 days at Traffex/Parkex 2019. We discussed our exciting, latest product offerings with a whole range of new partners and customers.
Our product offerings being centered around the afforded resilience of managed, multinetwork connectivity solutions. Of interest was how our solutions were just-right for scalable vehicle telematics deployments, and a wide-range of other traffic applications, including; automatic number plate recognition, signage, video surveillance systems, dashcams, parking facilities and electric vehicle charging solutions.
Our services have proven highly popular in each of these fields. M2M Intelligence's secure platforms allowing clients to view and manage their entire SIM estates and each device's data usage. Our innovative systems enable clients to proactively manage their costs.
Customers can manage their SIM estates by using their client-portal. Altering SIM bundles, groups, activating or suspending SIM's, as they are needed, used, or hibernated. M2M Intelligence's popular connectivity solutions and platform giving ongoing operational flexibility, to meet emerging needs and to avoid any bill-shocks.
About M2M Intelligence: M2M Intelligence is a foremost, global provider of secure GSM IoT connectivity. We help companies manage their data requirements and SIM infrastructure and are trusted by hundreds of companies around the world
Contact
T 0800 246 1578
www.m2mintelligence.com