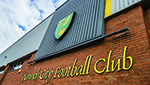 Humanforce demonstrates how technology can transform the hospitality sector – especially at large venues like stadia and arenas.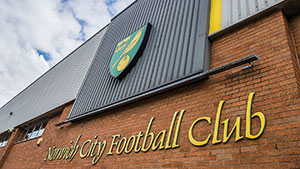 Managing a large workforce is challenging enough, particularly when spread across an entire stadium, delivering hospitality in several different areas of the business. That's why Norwich City Football Club called upon Humanforce to support the management of its teams in providing the best possible matchday experience to every fan.
Bringing in Humanforce workforce management software has helped the club eliminate obsolete processes, streamline operations and improve productivity across the business.
The challenge of providing Premier League hospitality
Each matchday, Norwich City welcomes roughly 27,000 visitors to its Carrow Road stadium with the aim of providing world-class football experiences. This goes far beyond the action taking place on the pitch. The club also must provide high-quality hospitality – from the stewards looking after safety to the catering team serving up a high-end dinner service at Delia's Restaurant and Bar (the only restaurant in the country owned by the club's famous majority shareholder Delia Smith).
Norwich City previously relied on several different systems and manual processes to manage its workforce of more than 1,200 people, many of whom are casual workers. This caused a range of problems, with the club unable to effectively manage its teams and allocate resources as needed in real-time. Compounding this was the use of outdated systems – including pen and paper – to input and store data, compromising the accuracy of the information and making staff management a time-consuming task.
How software streamlines workforce management
To solve the issue, Norwich City turned to Humanforce to help streamline and automate operations across the club. Simple to use yet incredibly powerful, Humanforce's workforce management solution has changed the way Norwich City approaches matchdays.
Including features for scheduling, payroll, and onboarding, the software gives Norwich City's departments complete visibility over their operations. This allows them to gain real-time insights and react accordingly – using the mobile app to connect with the workforce wherever they are in the stadium.
Technology transforming mindsets as well as operations
Humanforce hasn't simply made existing processes easier to manage, it has introduced a greater level of consistency across departments.
"We found that the departments really took well to the technology," says Faith Jennison, Business Finance Manager at Norwich City Football Club. "The catering team really benefits from the foresight and control Humanforce brings, while other departments like retail have really benefited from rostering and availability. And, overall, the heads of department now have accurate visibility over their costing and forecasting."
The software has also led a mindset change at Norwich City, highlighting areas where the club's operations can improve even further.
"Going forward, we're looking at bringing all salaried staff onto the system," says Jennison. "This will mean our forecasting and true costing will be even more accurate. We're also looking at bringing more departments onto Humanforce, so that we can implement a club-wide casual employee policy."
Find out more about how Humanforce has transformed hospitality for Norwich City. Read our full case study at: https://humanforce.com/customer-stories/norwich-city-football-club/