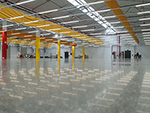 Concrete and industrial floors are routinely subjected to heavy loads, foot traffic and various negative environmental influences, causing scratches, stains and holes and significantly reducing their lifetime. Concrete surfaces become increasingly rough and brittle, with individual parts bursting and fine dust spreading throughout the workspace.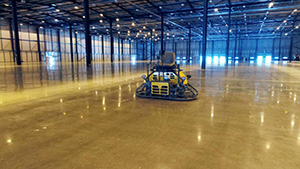 What's more, a damaged concrete floor dramatically increases the risk of accidents, and cannot be cleaned effectively through daily cleaning. Oil leaks, grease and chemicals can penetrate into the core of the concrete and cause considerable damage and the resultant repair and renovation of a damaged concrete floor comes with significant costs.
These are the problems that BECOSAN® is helping to eradicate. More than simply a brand, BECOSAN® is an innovative and unique patented system that can guarantee an enhanced and better performing industrial concrete floor. Backed by over 20 years of experience, BECOSAN® is an environmentally friendly system combining high quality polishing with state-of-the-art chemical engineering to make concrete floors dust-proof, more resistant to abrasion, and easier to clean, along with having reduced liquid absorption.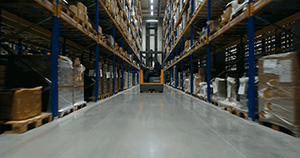 Undoubtedly, polished concrete (or trowelled concrete) has been an important approach for the construction of large surfaces for years. Thanks to its low cost, speed of installation and high durability, polished concrete is highly attractive for those looking for functional floors that can be operational very quickly.
These kinds of surfaces are highly durable, resulting in numerous large companies using polished concrete floors in their locations. Many of these companies are highly experienced and know that the maintenance costs of such floors can be astonishingly high, yet such maintenance is crucial to retaining their competitive edge within the market place.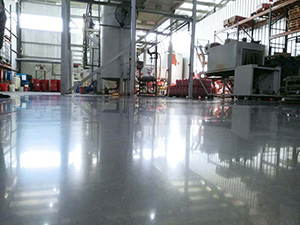 This is why BECOSAN®'s unique treatment system is the perfect choice for reducing maintenance costs and ensuring concrete surfaces remain in-tact and safe to use every day.
Indeed, with BECOSAN®, companies are transforming their old and dusty concrete floors into hard, dust proof, durable and abrasion resistant surfaces. Unlike superficial concrete coatings, BECOSAN® penetrates deep into the core of the concrete, chemically bonding the free lime particles to create a significantly more resistant surface. This provides ideal conditions for daily traffic of people and heavy vehicles.
BECOSAN® is ideal for use wherever an improvement and renovation of a concrete floor is necessary. This can include factories, workshops, production halls, cellars, carparks, industrial buildings, sports stadiums, hospitals, airports and railway stations, to name a few, or any other area where concrete surfaces are subject to severe stress.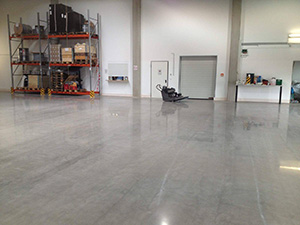 Indeed, BECOSAN® can be used both indoors and outdoors, is colourless, low in odour, environmentally friendly, solvent free and very easy to use. As a complete system for rough and dusty concrete floors, BECOSAN® is perfect for helping to maintain the quality of an industrial zone. Creating a resistant, dustproof and functional concrete floor for any type of use, BECOSAN® can treat large surfaces in a short period of time. In fact, BECOSAN® has such confidence in its system that it offers a 10-year warranty against dust with each project.
What's more, BECOSAN® helps to make the concrete surface easier to clean. Because of the minimised penetration of water and other cleaning liquids, cleaning becomes more efficient and takes up less time, reducing maintenance costs. Moreover, thanks to the improved hardness of the surface, there is an increased resistance against dense traffic of heavy machinery, impacts and abrasion. This increased abrasion resistance also extends the lifespan of the floor, meaning that BECOSAN® treatment is a minimal investment compared with the increase in functionality and lifespan achieved through its use.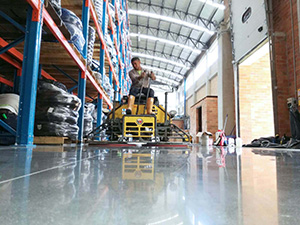 BECOSAN® understands that every floor is different, and adapts its services to suit the individual needs of its vast range of customers. Its meticulous process ensures that every floor receives the perfect finish every time.
The initial grinding process eliminates the micro-roughness of the concrete floor, opening the pores of the surface prior to treatment with the BECOSAN® Densifier. Then, the Densifier impregnates the surface, penetrating and reacting with the free lime within the concrete substrate. This chemical reaction produces a denser concrete surface, minimising abrasion wear, binding dust particles and increasing resistance to chemicals.
After this, the BECOSAN® Protective Sealer is applied. These water-based chemicals are impregnations that penetrate into the substrate. Because they're not film-forming coatings, they are highly suitable for an industrial floor thanks to their enhanced performance.
Indeed, unlike epoxy resins, or any paint for polished concrete floors, BECOSAN®'s concrete hardener is an alkaline solution that combines with the free lime on the surface and penetrates the concrete floor, increasing its strength.
This process ensures that an industrial concrete floor will be denser, more compact, and more durable. There are three finishes available from BECOSAN®: Matt-PLUS, Semi-gloss, or High-gloss. If you would like to find out more information on everything BECOSAN® has to offer, head to the website below.