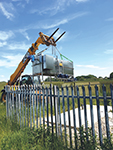 In this issue of Sustainability Today, we are proud to announce Leachate Solutions as our Environmentally Friendly Methane Stripping Plant Company of the Month.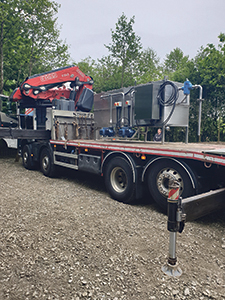 Leachate Solutions has over 35 years' Engineering experience, they design and build small footprint, high efficiency Methane Stripping Plants. Over the years the older air stripped systems have become outdated and very expensive to maintain and keep compliant. Designed and developed at its manufacturing facility in Lancashire, Leachate Solutions has created a modern alternative process using the latest in Airless Stripping System technology, that has increased advantages over older traditional air stripping systems.
Leachate Solutions is the only manufacturer of Airless Stripping Systems in the UK which is available as a permanent installation or a mobile unit. The system has been built and designed for the treatment and management of landfill leachate. Landfill leachate is the liquid that exists as part of waste in a landfill and is usually comprised of rainwater that enters the landfill. This then seeps into the natural decomposition of organic material along with other liquids and chemicals that have been discarded.
The system has been designed using greener engineering and produces lower energy requirements, a smaller carbon footprint and significant savings on energy and costs. The system is fully automated and can be left in a standalone remote location or scalable to meet changing demands. As well as having the ability to be integrated into an existing system, there are 'built-in' back-ups and failover systems in place to reduce the risk of negative environmental impacts.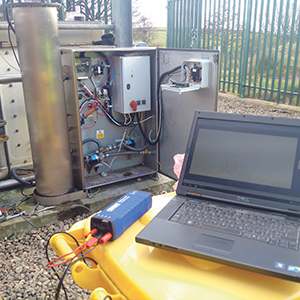 One best practice that Leachate Solutions pride itself on is its efforts to work in the most sustainable and ethical way possible. The system is built using 99% recyclable materials, with environmentally friendly 316 stainless steel. Where the traditional aeration system runs in constant operation wasting countless amounts of energy, the Airless Stripping System from Leachate operates as 'On Demand' and only uses energy when in operation.
The Airless Stripping System offers a solution to the water and wastewater industry that is completely unique. No other system has been developed on the market since the traditional solution, enabling Leachate Solutions to offer a completely independent product that is entirely unrivalled. Its smart monitoring and level control systems allow the processing of dissolved methane removal to surpass traditional methods using a more sustainable eco-friendly alternative. The system is completely environmentally friendly and meets the regulatory and environmental standards with ISO 9001 and 14001 accreditations.
"The closed landfill management industry can sometimes be guilty of 'this is how it's always been done.' But we have designed and built a new system that delivers the same solution but with a new approach that is both safe for the environment and the business. We currently supply treatment plants for the public sectors and local authorities and every client we have worked with has been very impressed with our clean and green engineered approach. We have just finished two projects for Lancashire County Council totalling a number of three systems in which we have supplied and designed for them. We have also provided two of our systems to West Lancashire Borough Council, overall, there are eight working Leachate plants around North Lancashire," stated Jane Rostock, Director.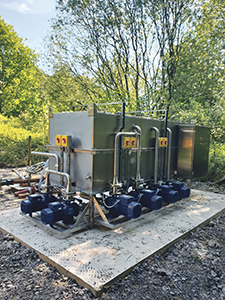 The message from Leachate Solutions is loud and clear, that greener and cleaner engineering is possible. Operating in such a niche sector, allows Leachate Solutions to operate as the sole manufacturer and supplier of the Airless Stripping System. Over the past three years, the company has received remarkable growth and is now looking to employ another full-time engineer in 2022. Its current engineer, Carl has been part of the company's eight-year growth plan and carries a vast amount of industry experience and knowledge. As a company, the ability to think outside the box is necessary in delivering a bespoke solution to any need. It offers a complete end to end solution, providing engineering installation and design services for any business operating in the water and wastewater industry.
Primarily, Leachate Solutions deal with the management of closed landfill sites. Its services deliver a solution to the site owners where they have a legal obligation to make their landfill site safe. Further to its services, Leachate Solutions also offer tailored maintenance programs for pre-existing water treatment plants of any type. Its maintenance consultancy services help identify and implement cost savings across the sector, providing real time telemetry systems, with bespoke software and site-specific dashboards.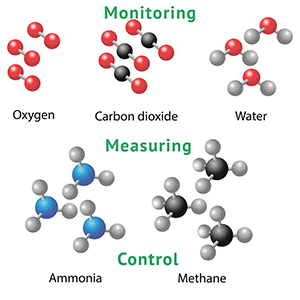 Business has increased dramatically over the past three years and Leachate Solutions has really gained momentum in the market. Further to its latest innovations, it also continues to supply and install: Pumps and Pumping Equipment, Flow Meters – Magflow, Ultrasonic and Doppler, Level Control Systems, On-Site Instrument Calibration, Pump Condition Reports and Pump Maintenance
and Management.
Most closed landfills, discharging leachate, require regular attention. Throughout the COVID-19 lockdowns, Leachate Solutions have been able to maintain their service, support and onsite presence for their clients and so enable them to remain compliant.
In the future, Leachate Solutions will be developing its advanced analytical services with water testing services and working with a biochemist which they believe will be the last piece of the completed jigsaw for their services. "We are looking to add a biochemist to our professional team who will help us to assess and analyse test results for clients and assist us to develop and provide further new solutions to issues they may have," stated Jane.
It's evident that much of Leachate Solutions success over the past two years has projected growth through its hard work and blend of expertise and experience to create the first UK Eco-Friendly Methane Stripping Plant. The future looks bright for the company as it continues its efforts in sustaining its industry leading position.
For more information, see below:
T 01772 816593
enquiries@leachatesolutions.com
www.leachatesolutions.com