In early 2014, following successful lighting upgrades to 38 trade counters, QE Global Ltd was invited to create a proposal to upgrade the inefficient lighting for its client's main distribution centre in Melmerby, Cumbria to a more environmentally friendly & cost-effective LED solution.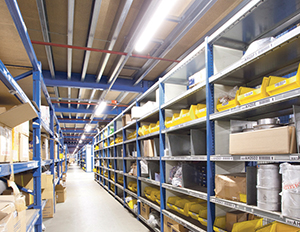 The client is a worldwide plumbing distribution wholesaler with extensive experience in all construction industry sectors.
QE Global agreed initially to run a small pilot scheme in one of the many loading areas on site to illustrate the potential cost savings and levels of improvement to both the lighting and working environment that could be achieved.
This trial area included the supply and installation of a real-time, networked, energy monitoring module which allowed the client to dial into the system at any time to observe the performance of our fittings against their existing lighting infrastructure.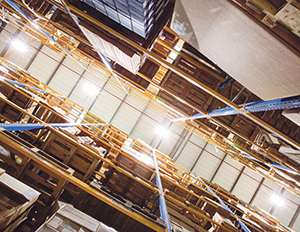 Following the success of the trial, it was asked to create a lighting design which would not only increase the light levels at key areas such as fork-lift intersections and inspection/packaging areas but also to incorporate additional control systems to safely minimise the lighting usage in low-volume pick areas and to accommodate the lower traffic requirements during night-shifts.
This was achieved using a combination of PIR (passive-infrared) and microwave sensors where line-of-site activation was not possible.
The use of microwave sensors was particularly important where fittings were mounted at over 15m and beyond the reliable range of PIR detectors at that time.
The addition of these sensors effectively reduced the average run-time of any one fitting across the warehouse floor from 24 hours/day to just over 2.5 hours/day. This type of upgrade only made possible through the use of instant-strike LED light fittings.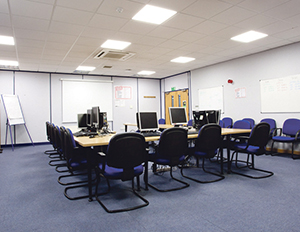 The site is now saving £23,000 per quarter on their energy bills. Installation of lighting the entire 140,000ft² facility took 7 weeks to complete.
QE Global Ltd is a commercial LED lighting manufacturing company that has been trading since 2003 and all of the products are designed by the company in the UK. It has offices throughout the world including the US and the Middle East.
Reduce your lighting energy consumption by up to 80%
Reduce your maintenance costs by up to 80%
Meet your carbon reduction commitments
Take advantage of ECA tax relief on the entire project cost
Increase your light-levels and create a better working environment for your staff
Reduce picking times
No obligation – no cost survey, designs and proposal
Full turnkey solution with long-term labour warranty options
Through the success of this and many other similar projects, QE Global Ltd is now offering its lighting upgrade services on a lease-rental basis, protecting your cash-flow and improving your balance sheet long-term.
T 0203 174 0316
www.qeglobal.com