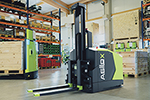 After the 'ONE' comes the 'OCF': AGILOX expands its line of intelligent guided vehicles by introducing a new autonomous omnidirectional counterbalanced forklift, operating with swarm intelligence. In doing so, AGILOX has entered a new area of ​​application: classic intralogistics in inbound/outbound warehousing and storage.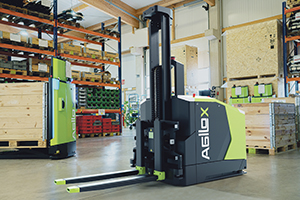 With the ONE, AGILOX's ultralight, high-efficiency forklift product line, the company has reshaped the concept of AGVs. The fleets operate without a central control system, meaning the vehicles navigate the production facility or warehouse in a truly autonomous fashion. The exceptionally compact AGILOX IGVs organise their routes according to the decentralised principles of swarm intelligence, making them much more flexible than traditional AGVs. Additionally, programming or 'teaching' the vehicles becomes significantly easier, while central software programs including maintenance, updates, etc. are rendered obsolete – an innovation that lowers operating costs.
AGILOX is now expanding its range of IGVs to include the OCF – an abbreviation for 'Omnidirectional Counterbalanced Forklift'. While the ONE is equipped with a scissor lift to function as a load handling device (and thus transports the load within the vehicle contour), the OCF is designed according to the principles of the counterbalanced forklift. Hence, it can pick up pallets, lattice boxes, and other load carriers with a maximum weight of 1,500kg (3,300lbs), transport them to the destination, and set them down at a height of up to 1,600mm (63in).
Robotics & Drives
T +353 86 8161869
mbrennan@rdservice.ie
https://agilox.net/en