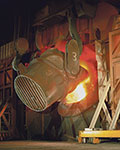 MISTRAS Group Limited, UK subsidiary of US-based MISTRAS Group Inc, is monitoring the condition of low speed tilt bearings on Basic Oxygen Steelmaking (BOS) plant vessels at a steel production plant.
The objective of the monitoring, over time, was to trend the bearing condition, provide advanced information on the behaviour of the bearing during rotation and identify any acceleration in degradation rates of these critical, high value bearings.
In March 2015, MISTRAS installed its Sensor Highway Data Acquisition System and permanent Acoustic Emission (AE) sensors on two tilt bearings on the BOS plant vessel. During controlled vessel rotations performed by the customer's engineers, MISTRAS online monitoring (OLM) engineers monitored the vessel bearings via remote connection from its Cambridge, UK office to the onsite data acquisition system.
The AE data collected from the controlled bearing rotation tests provided features that indicate the bearing condition, these include:
The number of hits (events above the test threshold), which indicated activity rate of the bearing
Energy released from the transient emissions, which indicate the severity of the source
Amplitude (loudness) of the transient emissions
For more information regarding MISTRAS in the United Kingdom, visit: www.mistrasgroup.co.uk or contact Peter Hurn, UK Marketing Manager, via email at: peter.hurn@mistrasgroup.co.uk
For more information regarding the MISTRAS Group worldwide, please visit the company's website at: www.mistrasgroup.com or contact Nestor S Makarigakis, Group Director of Marketing Communications, via email at: marcom@mistrasgroup.com