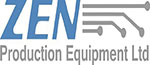 We had some excellent enquiries during the 3 days from both existing customers and new customers alike. Major interest was in vapour phase technology from Asscon, selective soldering from Inertec & routing from Aurotek.
Representing suppliers such as:
Asscon – vapour phase reflow systems from small batch systems right through to true in line systems.

Heller Industries – the worlds most popular reflow oven with a range covering systems suitable for SME's through high volume dual lane systems and vacuum technology.
Inertec – the inventors of the selective soldering process. We can offer batch and inline systems with a variety of wave or stamp technologies.
EPM – wave soldering systems from Switzerland, boards enter at SMEMA height and exit at SMEMA height. A great compact soldering system.
PBT Works – stencil and PCBA cleaning systems from a company with over 20 years' experience. From small batch cleaners using aqueous cleaning chemistry right through to robotic tank systems with vacuum drying modules.
Aurotek – PCBA de-panelling without introducing stress to your PCB or components. From bench top systems right through to twin bed inline systems we have a system to suit all needs.
Vanstron – Factory automation from world class supplier in China.
T 0115 972 2733
admin@zpel.co.uk
www.zpel.co.uk