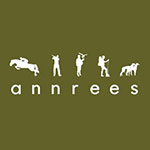 Innovation through stylish creation has always been the unintentional yet enduring approach at 'Ann Rees', an equestrian and canine apparel company specialising in handmade, made-to-order products. Its founder and name sake never set out to be a business owner; she just needed to make some extra money to support her young family. Now entering its 33rd year, her company continues to produce individually hand-cut, hand-stitched products in the UK and exports them all over the world to a legion of very happy animal owners.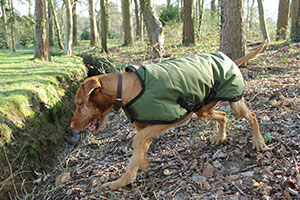 Although the path hasn't always been an easy one, the underpinning values for operation and customer care are very much apparent today and if you ask any of their repeat customers why they keep returning, you get very similar answers; the impressive high quality of each product, value for money (some customer feedback has actually suggested a price increase) and above all, an unlimited level of outstanding customer service. In the ever-increasingly digital world of convenience, mass-production, mass-throwaway and click-purchases, those at Ann Rees vehemently believe in the importance of human conversation and consideration when placing an order as they want to ensure they create exactly what each customer wants. "Otherwise, what's the point?" explains Carla, Ann's daughter and member of the team. "We create high quality products that are built to last a very long time and we want our customers to love them for a very long time. Each order that we receive represents an owner's appreciation and love for their pet, so each one has to be perfect."
The ethos of the company stems from its founder, Ann Rees, and the practices she has developed over the last four decades as a craftsman, specialising in leatherwork. Having honed once-common skills such as stitching, sewing and saddlery to name a few, she is now an accomplished name within the field who is often called upon by organisations such as the BBC when they need authentic costumes for a period drama such as the 'Very English Scandal' starring Hugh Grant and Ben Whishaw, or Netflix's popular series The Crown. She takes enormous pride in what she does and the company she has built, but it is clear that by far her highest priority is her family. Her eldest daughter, Carla, has followed her into the business dividing her time between the workshop and the office and Ann welcomes interruptions from her grandchildren at any opportunity!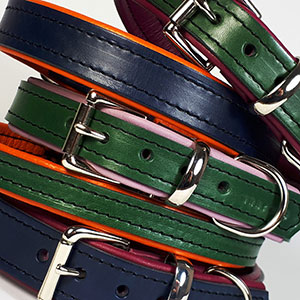 The time-sensitive nature of a business where every product is individually made by one or perhaps two pairs of hands places obvious limits on manufacturing capacity and potential customer-base but it's a limit that Ann is very willing to accept. She has resisted the many offers to move production to other countries over the years to increase profit, including China, as this would eliminate the two most valuable aims of the company; producing high quality items made to the specific requirements of each customer, and exceeding customer expectations through product and service. "There are hundreds of dog collar and coat manufacturers out there that can produce products for a fraction of the price that we can, but there is no one in the world that can match us for quality, value for money and customer care. I know this because I help make every single item before it gets sent out and it's me that answers the phone to every customer that calls," explains Ann, while waxing the thread she uses to stitch a belt buckle for a customer in New York.
It is clear to see that the small but talented team at Ann Rees are passionate about what they do, and know their customer very well, largely because Ann is a typical customer. "I don't like spending money on rubbish that will be thrown away in six months' time, I like something that is beautiful, classic and is the product of a skilled individual, not an unrelenting conveyor belt, but equally, it must be affordable." It was that mentality that led to the creation of the company.
In 1987 Ann had four children ranging from 10 years to 10 days old and was keen to share her childhood hobby of horse-riding with them so was therefore also the proud, if slightly naïve, new owner of a little pony. As her daughters embraced horse-riding as their love too, the need for bridals, headcollars, horse rugs, travel boots, numnahs and alike grew, so too did the spiralling costs. "The equestrian world is not a cheap one and the only way I could afford to do it was if I made virtually everything myself." And that is exactly what she did. Within a few months of turning up to horse shows with her pony wearing her own designs, other people were placing their orders for Ann Rees horse-rugs, stirrups, reins, leather headcollars, you name it, Ann was making it or repairing it in a make-shift workshop at her home.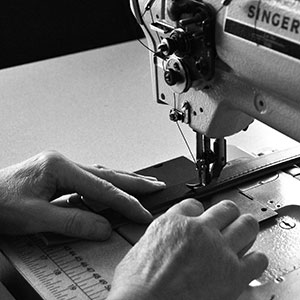 After a couple of years Ann Rees had established itself as the go-to company for made-to-order, waterproof horse-rugs in the South-East of England as well as leather half-chaps that were becoming increasingly popular with young riders, a pair of which she sold to a member of the Royal family. Not only a skilled craftsman but an incredibly creative problem-solver, Ann creates products that serve a purpose and are functional, as well as being beautiful. Experience with her own pony led to the design and development of the horse-hood that attaches onto the rug reducing the time sent brushing off thick, dry mud after being in the field. This became a very popular addition to the Ann Rees horse rug range and many other companies have created similar versions since.
With an increasing range of products that could be tailor-made, the Ann Rees equestrian brand grew nationally through the 1990s and 2000s becoming synonymous with quality, longevity, made-to-measure craftsmanship and attention to detail. However, as the industry and consumer behaviour changed, the manufacturing of these types of products became mass-produced in stock-sizes abroad with cheaper materials and a cheaper labour force, therefore pricing handmade products out of the mainstream market, "I remember seeing horse-rugs for sale in a high street supermarket for less than the cost of my raw materials and thought at the time, I simply can't compete with that."
Applying her innovation through stylish creation approach, Ann shifted her focus from the equestrian to the canine world and began making leather dog collars and leads of different sizes and colours much to the satisfaction of her existing customer base, many of whom also owned dogs. As ever, the products were inspired by her own experience as a dog owner and she and her team continue to create new stylish designs that are functional, constructed with a long-lasting quality that only handmade can guarantee.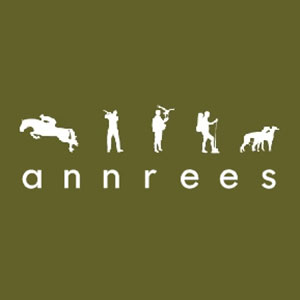 Usually ideas present themselves to the team in the workshop but on occasion they have been at the request of a customer wanting something specific and unable to find it in shops anywhere, for example the now extremely popular towelling coat was devised when the owner of a working gun-dog wanted his springer-spaniel to stay warm on cold, wet days after a pheasant shoot. Ann worked closely with the customer to design a simple and effective washable dog coat which is now available in a variety of colours and popular with those that spend a high proportion of time out in the elements. Still their signature padded leather collars are the bestselling products in the Ann Rees canine range, with over 350 colour combinations, choices of fittings and collar size. The huge variety of options available to customers when creating a collar for their pet makes this product the most customisable and unique real leather dog collar available on the market, as well as exceptional value for money.
With the pet industry as a whole set to exceed £2.1 billion by 2023 it seems Ann was right to diversify her product range all those years ago, but as an established and trusted brand within the industry isn't she tempted to claim a slightly bigger portion of the pie by increasing manufacturing capacity? It seems not. "We really believe that the keys to our enduring success are keeping the company small to ensure the production of high-quality items by experienced, skilled hands and taking the time to know and care about our customers, I don't think we need to make it any more complicated than that." The Ann Rees brand now exports a vast range of equestrian and canine products across the globe with increasing demand particularly from the USA. With a small but growing global trend to be more responsible through our purchasing power, consumers are becoming more conscious of the quality and longevity of the items they buy and the impact large corporations can have on local communities. This is a philosophy that the team at Ann Rees really subscribe to and they encourage initiatives like 'Small Business Saturday' and the Made in Britain network. "We still feel it's hugely important to have a presence at local agricultural, horse and dog shows to maintain that face-to-face, local connection to the communities and individuals that support us. They made us what we are today and they provide our direction for the future."
From the greatest of Great Danes to the tiniest of toy-dog, all creatures great and small are catered for and clothed by Ann Rees and you can be forgiven for forgetting that all of the products are handmade, such is the quality and fit.
For more information about Ann Rees, the team and the full range of products they make, visit www.annrees.co.uk or speak to Ann directly on 07774 626677.